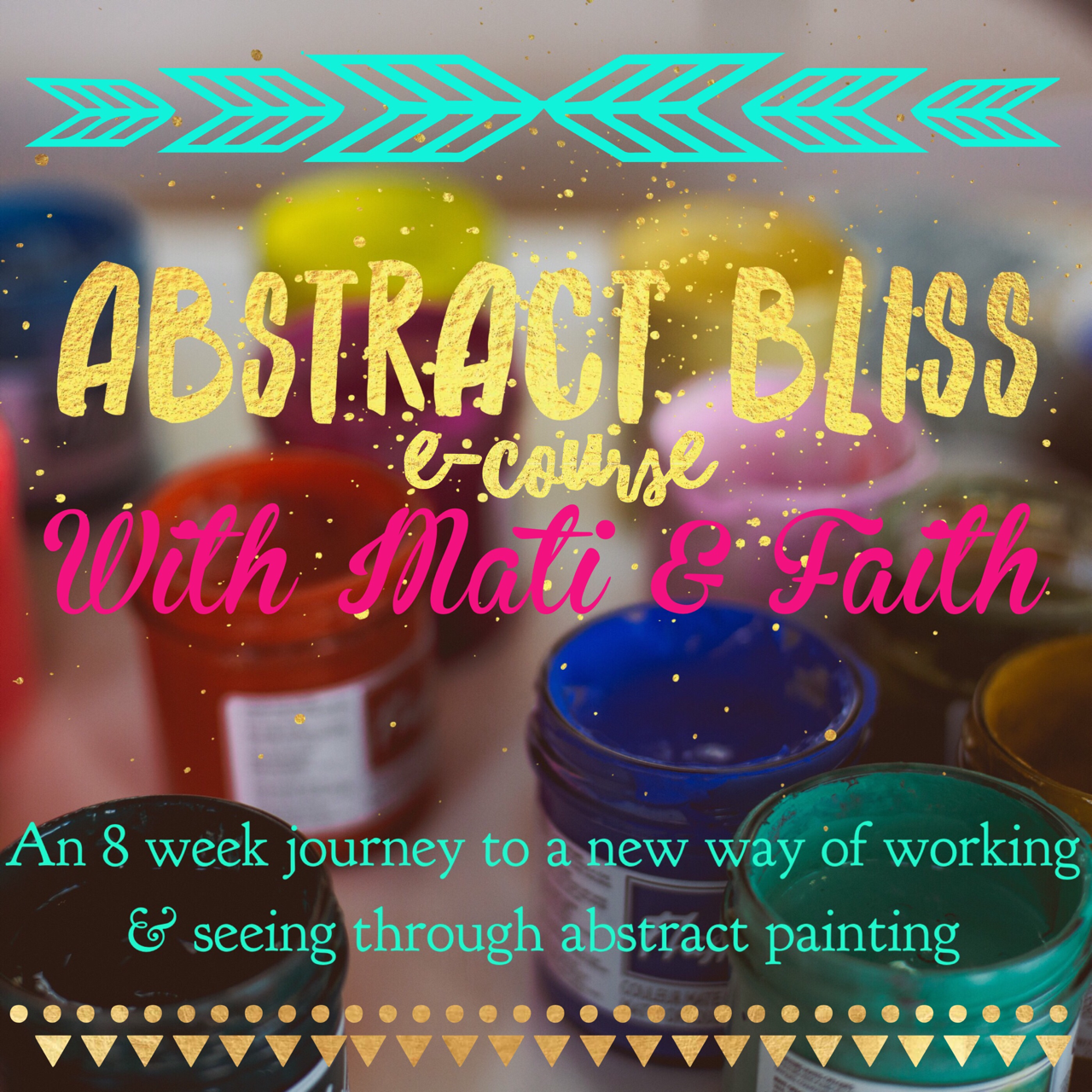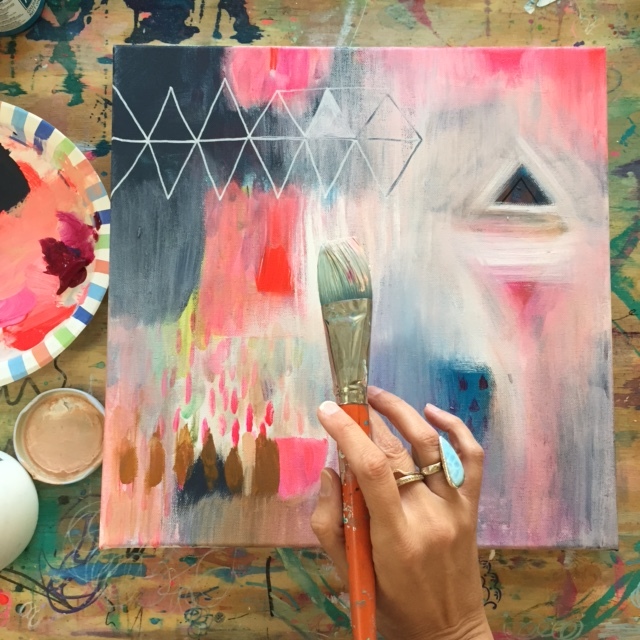 ABSTRACT BLISS
[ 8 WEEK JOURNEY ]
AN 8 WEEK DEEP DIVE JOURNEY TOWARDS A DEEPER WAY OF WORKING & SEEING THROUGH ABSTRACT PAINTING.
THIS COURSE IS FOR ANYONE LOOKING TO GROW THEIR UNIQUE VOICE IN THEIR WORK, EXPAND THEIR TECHNIQUES & WAYS OF THINKING THROUGH PAINT, AND COME AWAY WITH A STRONGER VISION OF WHERE THEY ARE GOING IN THEIR PAINTING PRACTICE.
CLASS DETAILS
WHEN:
Begins on February 5, 2018 for 8 weeks of live class
WHERE:
Online, self-paced
PRICE:
We are offering a variety of special offers, so get in early before they DISAPPEAR!
Take A Deeper Look Inside This Course…
This class is for anyone looking to grow their unique voice in their work, expand their techniques & ways of thinking through paint, and come away with a stronger vision of where they are going in their painting practice.
WATCH THE VIDEO FOR A SNEAK PREVIEW!
How It Works

AN 8 WEEK JOURNEY TO A NEW WAY OF WORKING & SEEING THROUGH ABSTRACT PAINTING.
Kick off the New Year diving deeply into your painting practice, developing your authentic voice in your work and connecting with a group of other artists! Join teachers Mati McDonough and Faith Evans-Sills in this winter 2018 session of their popular Abstract Bliss E-Course, an 8 week deep dive adventure into the world of Abstract Painting. We'll journey each week through a new topic, a new way of working and seeing through paint.
IN THIS E-COURSE WE'LL EXPLORE:
Our tried and true favorite supplies!
Color Mixing & ways to play with colors
Finding Inspiration, where to look and how to use what inspires you to create paintings that you love!
Composition & Scale
Beginning a Painting: overcoming that "white canvas" paralysis
Finding Your Personal Subject Matter
Creating a Personal Vocabulary of Marks
Cultivating Quiet in your work
Creating Luscious painted Layers
Bringing it all Together, we'll show you how to combine everything that we learn into a beautiful whole!
and so much more!!!
We'll walk you through each weekly topic with start to finish painting videos, inspirational prompts, guided activities, along with lots of interaction in our private online classroom. Mati & Faith with be very active in the group, providing support, feedback & guidance throughout our 8 weeks together. This class is open to all skill levels and all creative spirits looking to deepen their painting practice, broaden their painting skills, work their bravery muscles in the studio and expand their personal voice in their paintings. Let's dive in!
Here's your invitation to dive deeply into your paintings, exploring abstraction while having fun in our nurturing community of artists all over the world…..
Each week in our Online Classroom we'll follow a rhythm to help you stay focused on your goals and our weekly topics.
MONDAYS… At the start of each week we'll introduce our weekly topics. Either Mati or Faith will post a long instructional demo video that's around 15-20 minutes long, walking you through our painting processes based on the weekly topic. These videos will usually show you the start to finish creation of one of our abstract paintings! We encourage you to turn up the music and paint along with us! These lessons will often include inspirational prompts, along with lots of interaction with community in our private online classroom.
WEDNESDAYS… are our inspiration days, where we'll post videos, ideas and other bits of inspiration centered around weekly themes to keep you inspired through your week. These inspiration day explorations serve as a creative fuel throughout your painting practice to develop & explore imagery and ideas in a freeing way! On these inspiration days we will cycle through these topics:
Visual Treasure Hunt Video: giving you a prompt and inviting you to explore your surroundings in a new way. These videos will take you along on our varied travels, through Iceland, Wales, Maine, Morocco and more!
Studio Chat Video: in which Mati and Faith post a video chat in which they discuss a wide range of topics relating to painting and developing a thriving painting practice!
Short Painting Demo Videos.
FRIDAYS… are our sharing day, where we invite you to be Daring together and share your work and ask for feedback! You'll have access to Mati and Faith's support, feedback and guidance throughout the course, especially every Friday where you can post your work and request detailed feedback from the group on specific concerns.


Thank you to Faith, Mati and all the group members for such an inspirational year! It's been such a brilliant course and I'm very happy & grateful for the work that I've created alongside you all. I too have sold paintings – six of them which is fab'!"
– Louise Elizabeth

I'm beyond grateful for the generosity of what you have shared with us here. I pulled all the work out of my studio and around the house and counted it up, and I made 66 paintings this year (in our year long e-course). I sold 7 of them and did two commissions. This WOULD NOT have happened without feeling so held within my process of growth within this group. My deepest thanks Faith and Mati and to all my fellow painters."
– Susan Nethercote

This class really has been life changing for me. It truly has been a year of self discovery and I'm so grateful. It really came at the perfect time and helped me realize that I really do love to paint and I love painting abstractly which I had never done before. Being a year long course really helped me to stay inspired and motivated and I loved seeing what the other students were creating. It was great having different lessons each month and seeing your videos – those always gave me a boost too. Thank you both so much!"
Janelle Gurchinoff

FREQUENTLY ASKED QUESTIONS:
Q: Who is this class for?
A: This online class is open to all skill levels and all creative spirits looking to deepen their painting practice, broaden their painting skills and work their bravery muscles in the studio!
Q: What materials do I need for this course, do I need a studio space?
A: No, you do not need a separate studio space for this course, but it will be much easier if you have a spot in your home that is dedicated just to painting. This could be a corner of your kitchen, dining room or just a cabinet where you store your supplies so you can easily access them when your inspiration strikes. Some of our projects will be messy and you will want a place where you can feel free to let those spirits lead you without worry. We will give you a list of art supplies, many of which you probably already have in your studio/art bin. We'll primarily use acrylic paints and watercolors, we'll go into detail during our first week of class sharing our favorite brands with you.
Basic course material include: 4-6 canvases (around 12 by 12 inches or larger), a simple set of acrylic paint including white & black, a simple watercolor set, a cold pressed watercolor pad, acrylic paint pens & markers, a variety of pens & pencils, gold leaf & foil, adhesive (modpodge or mat medium), a variety of sizes of paint brushes. You will also need a camera (just the camera on your phone is fine!) to document your work as you create it, and share it with the class if you choose to!
Q: How long will I have access to the course material?
A: The class will begin February 5th, and will run for 8 weeks. You'll have access to all course material & workshop content for 6 months from the start of the class, to enjoy, explore and dive into as many times as you like. You simply need to be logged into your account on Ruzuku, the site that hosts my online classes, to access the workshop. plus you'll remain a part of the private Facebook group forever!
Q: Do I have to complete all the projects?
A: You will have access to the course material for a full 6 months in our online classroom, so you can go at your own pace! No need to worry if you miss a class or a week or a lesson! We want this class to feed your inspiration, and be a receptive place where you can relax and re-energize your art practice. You will never get any guilt or pressure from us or within the group to complete projects. Participants can share their projects in the FB group and on Instagram as they feel led, gaining feedback and inspiration from each other!
Q: It's already part of the way through the class, is it too late to start the class?
A: We will leave registration open for the first two weeks of class, through February 19th, so that late comers can feel free to jump right in and still have 5 juicy weeks of live class plus access to all of the course material already covered!! Plus you'll be able to go back and cover all of the lessons & topics for the whole 6 months. Its always a great time to join our community!
Q: How does the online class work?
A: We'll have our own easy to access password protected online classroom where we'll gather as a group. Mati and Faith will both invite you into their studios, discuss supplies and share all of their tips & tricks through video presentations. The course will have a strong weekly rhythm, with posts every week day for our 8 weeks together (Monday through Friday). Our goal is to keep you on track and inspired! We'll also have special social media tags to use when we share our work online throughout the course, building our community and tribe. You do not have to check into the class at specific times. You can access the week's assignments as your own schedule permits, and in your own time zone. We'd love for everyone to check into the online classroom and read new course material several times a week, however we understand that this isn't possible for all our busy lives and that everyone will be at their own pace!
You can choose to share your art with the group by posting it on the Sharing Days in our online classroom, this will be a completely private place for just our group and any thing shared there will only be visible to others signed up for the class. Sharing your work is an important part of learning to paint, developing your style and growing your work. We encourage participation and discussion within the group in our classroom, any mean and overly critical dialogue will not be tolerated. We encourage and strive to create a safe, positive environment for sharing and growing together!
Q: How does sign up work?
A: After you click the Register Now button below, you'll be directed to my online e-course host Ruzuku to sign up and pay, remember to use any discount code at checkout! You'll create your own personal account with Ruzuku which you'll use to sign in and access our online classroom. When a new lesson is available in our online classroom you will receive an email letting you know.
Q: Do you offer refunds?
A: No refunds will be offered. Online access to the course material is given at the time of purchase so it is not possible to offer refunds. Thanks for your understanding.
YOUR INVESTMENT AND FUTURE COURSE DATES:
This session of the Abstract Bliss will begin on February 5th, 2018
Our early bird prices detailed below will be available until February 19th, 2018. This price includes six months of unlimited access (from the date that the course begins) to all the course content.
*Please note, materials are not included in the price of the course.
COST
In an effort at accommodate many budgets, we are offering a variety of price tiers so get in early before they DISAPPEAR!
LAST CALL EARLY PRICE: $199
extended until February 4th
$100 savings, yowzers!
FULL PRICE: $299
class begins February 5th and registration will stay open until February 19th!
WEBSITE DESIGN SPECIAL OFFER!
Save up to $500 for custom Website Design or Squarespace Mentoring and Tutoring for your art shop website with Jen Van Arsdale Design!
Register for Abstract Bliss and the link to this special offer will be in the welcome email.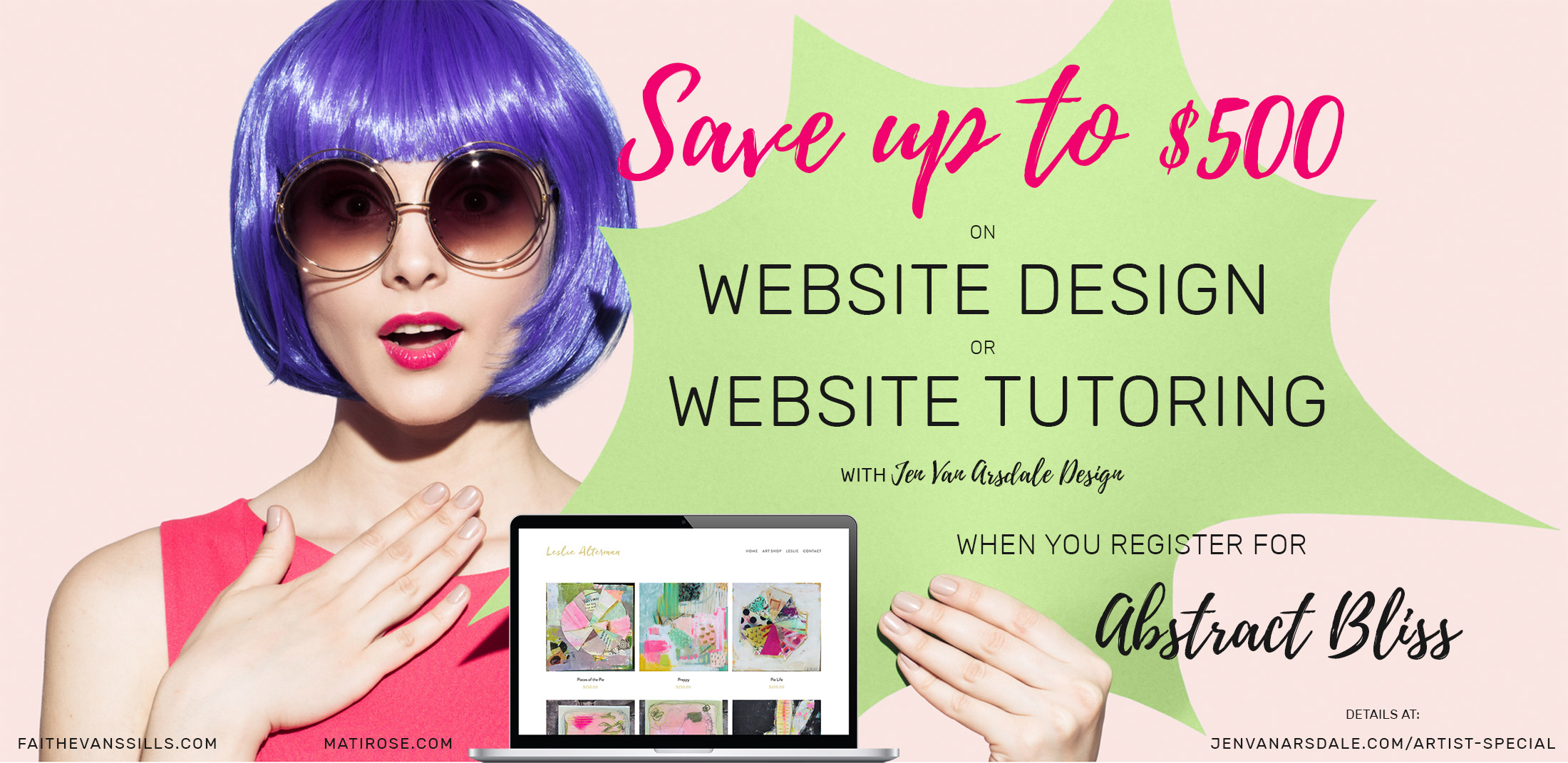 We're so excited to dive into this exciting class,
we'll gather to begin the adventure with our
first day of class on February 5th!
Looking forward to growing your work by Leaps and Bounds as we dive into abstract bliss together! See you in the classroom!
XO FAITH & MATI
FAITH
is a painter, wife, mother, world traveler and New York City transplant. With 20+ years of personal painting experience she enjoys inspiring others to manifest their most heartfelt ideas through creating art. Her art has been exhibited widely, included in multiple publications and she is very excited to now be fulfilling her longtime dream of offering creative workshops and retreats. She lives with her husband and 3 young children by the sea in Charleston, South Carolina, where they enjoy exploring southern beaches and maintaining a close connection with nature through frequent trips to wild places. Follow along here on her eponymous
blog
and on
Instagram
where she posts daily beauty and inspiration.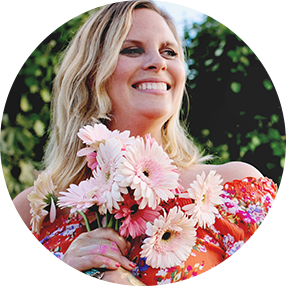 MATI ROSE MCDONOUGH is an artist and daring adventurer whose name is pronounced Matey, like Ahoy! She is an Oakland, California based artist, illustrator, painting teacher and author of "Daring Adventures in Paint". After wanting to be an artist for many years, but feeling like it was "impractical," at 29 years Mati took the leap and went back to art school at the California College of the Arts. Almost 10 years later, she is still excited and terrified every time she sees a blank canvas. She has had dozens of art shows, taught painting classes internationally and had her art used by clients Patagonia, University Games, Pier 1, as well as greeting cards, and her very own home decor line. She also has illustrated several children's books including "i carry your heart" written by ee cummings.
Through her workshops,book, and popular online course, she spreads a warm message of creative courage: IT'S NEVER TOO LATE TO SHOW THE WORLD YOUR MAGIC.