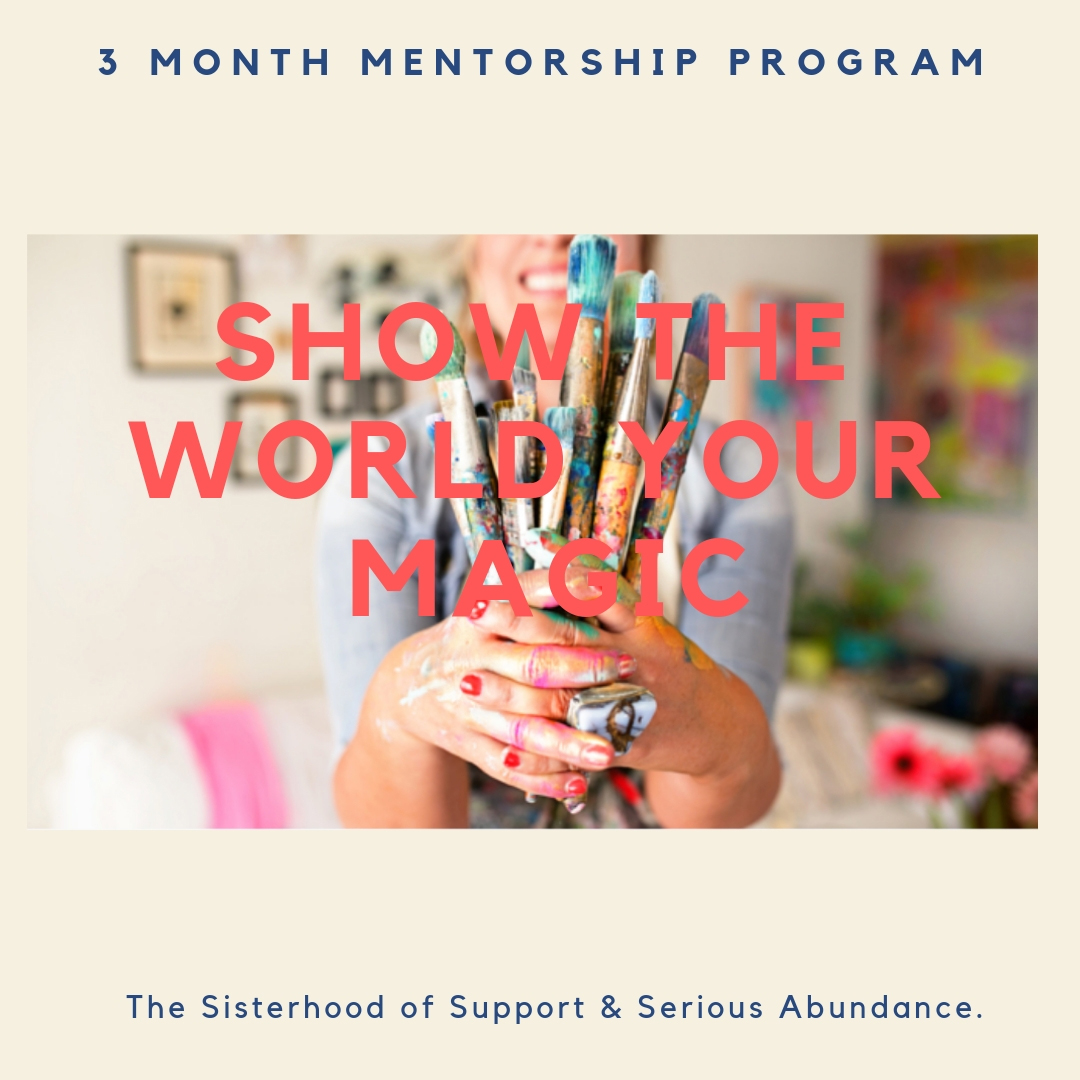 Alright loves, this is what you've been waiting for. What I've been waiting for— I'm ready to meet and guide you forward!
FOR 3 MONTHS, STARTING IN SEPTEMBER 2019, WE'LL MIND-MAP THE SH**T OUT OF OUR DREAMS. This is about up-leveling what we believe is possible in our art and creative businesses and really going ALL IN on yourself and going for it in 2019 and beyond!
Using the Daring Adventures in Creative Biz as a model for diving deeper, learning from one another, holding each other accountable and creating space and time to manifest your creative business dreams. You will have your own private class of 10 incredible creatives and I will guide you personally through the material.
We will have 3 months of going deep into all aspects of running a successful art business and aligning yourself with your core values to create a strong foundation for growth.
We will begin September 9th- December 1st for 3 months of up-leveling your creative biz!
IN THIS COURSE:
Bi-Weekly (6 total): small group monthly mastermind virtual calls on zoom where we you can sign on with video so we can share our faces, art and more! (These will be recorded in case you miss one)!
A private classroom: for your STWYM group where we will support one another and it will provide the touchstone for the work (forever access to the workbooks and course Daring Adventures in Creative Biz material

 plus additional guests and bonuses).

Group virtual conferences twice monthly with homework and check-ins in between.
Limited to 10 people
Access to my workbooks and support to work through them
Supplemental juicy visioning and reading material.
Support with with visual look of website, logo, colors, identity, mission, marketing with an emphasis on authenticity & marketability
Support with the creative process
Portfolio reviews + Strategy Sessions
Access to Daring Adventures in Creative Biz course

forever
ADDITIONAL 1 ON 1 VIP CALLS AVAILABLE 
When you sign up for this mentorship, you get 1st dibs on my roster, and can add on monthly 1 on 1 calls. 
THE EXTENDED COURSE
After the 3 months catalyst STWYM program, you will have the option of reviewing your progress and choosing to continue on in this group for 3 more months, for a total of 6 months of sustained support and action.
I TAKE A VERY LIMITED AMOUNT OF 1-ON-1 CLIENTS, SO HERE IS YOUR CHANCE TO WORK WITH ME IN AN INTIMATE CAPACITY. OUR DREAMS TAKE A LOT OF COURSE CORRECTION, TRIAL AND ERROR AND VISIONING, WHICH WE WILL BE DOING AS A GROUP, WHICH WILL SERVE TO FURTHER INSPIRE AND SUPPORT YOU. THIS PROGRAM IS APPLICABLE TO VISUAL ARTISTS AND CREATIVE ENTREPRENEURS OF ALL STRIPES.
YOUR INVESTMENT:
THE STANDARD 3 MONTH COURSE
ONE TIME PAYMENT OF $997 EARLY BIRD PRICE 
OR 3 INSTALLMENTS OF $397 paid monthly
6 monthly Installments available— please inquire 
SHOW THE WORLD YOUR MAGIC
[ 3 MONTH EXCLUSIVE MENTORSHIP PROGRAM ]
DARLING, YOU ARE WORTHY OF THIS AND SO MUCH MORE! USING THE DARING ADVENTURES IN CREATIVE BIZ AS A MODEL FOR UP-LEVELING + DIVING DEEPER, LEARNING FROM ONE ANOTHER, HOLDING EACH OTHER ACCOUNTABLE AND CREATING SPACE AND TIME TO MANIFEST YOUR CREATIVE BUSINESS DREAMS. YOU WILL HAVE YOUR OWN PRIVATE CLASS OF 10 INCREDIBLE CREATIVES AND I WILL GUIDE YOU PERSONALLY THROUGH THE MATERIAL.
CLASS DETAILS
WHEN:
September 9th – December 1st
WHERE:
Online, Video & Phone Conferencing
PRICE:
$997 full EARLY BIRD PRICE
or $397 in 3 installments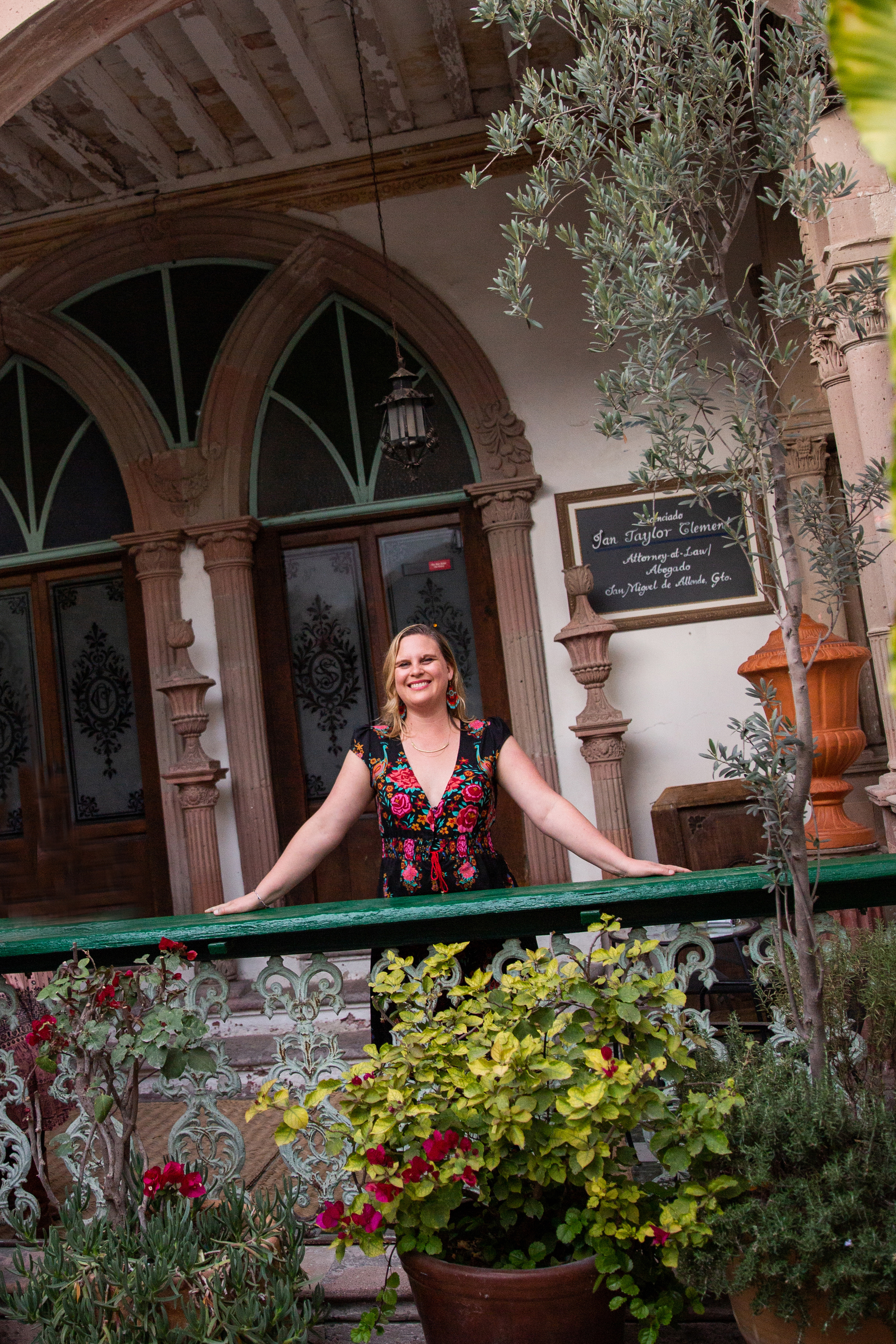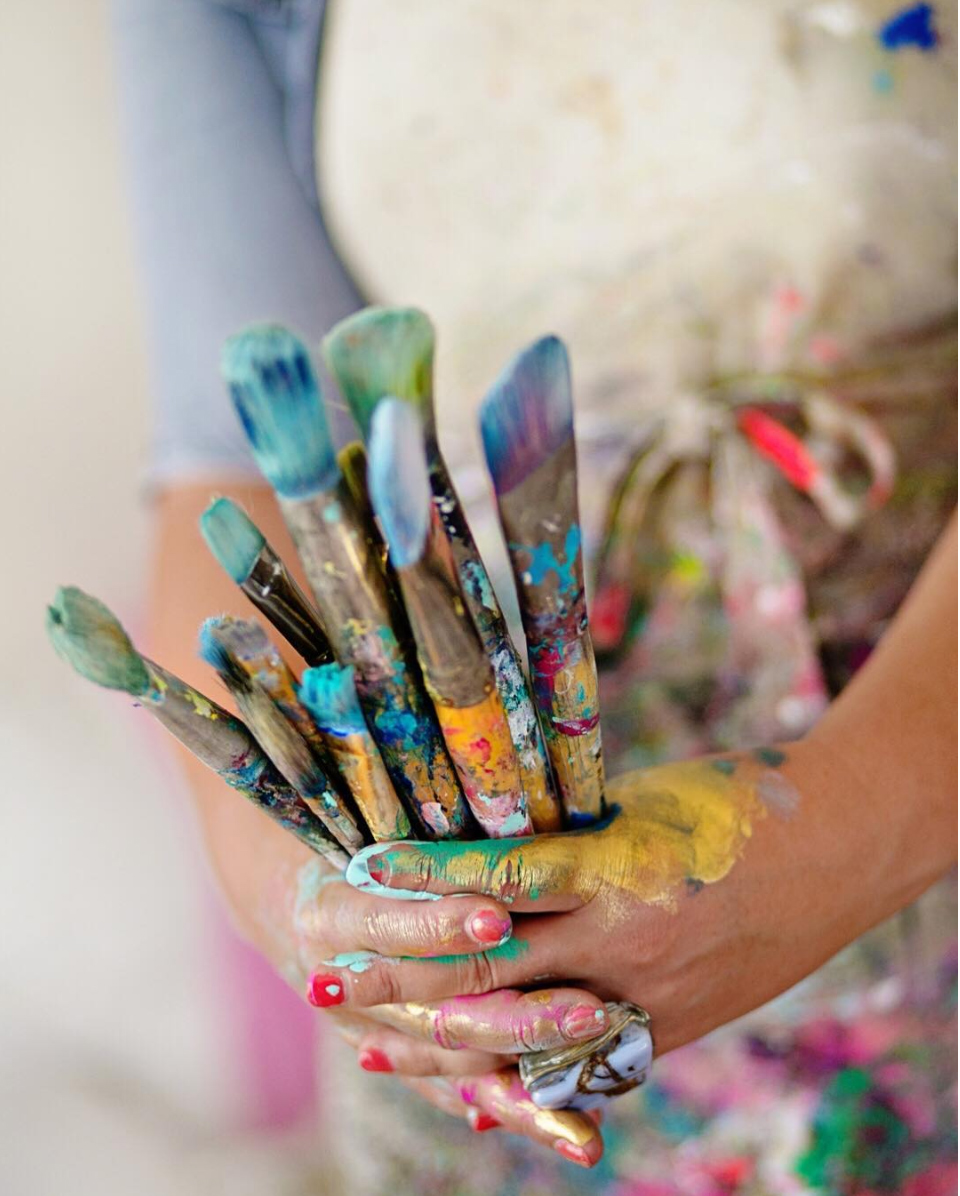 WE'LL MEET TWICE MONTLY FOR GROUP VIRTUAL CONFERENCES with homework and check-ins in between. Limited to 10 people in the group. These will be a punctual hour and a half long:
• Accountability
• Vision
• Community
• Branding
YOU'LL GET ACCESS TO MY WORKBOOKS, which will include:
• Support on how to use them 
• Passion Inquiry
• Messaging
• Branding
• Tools for Selling Your Work
I WANT EACH OF YOU to come out of this process— stronger in your creative voice, your messaging, your look, your marketing, your worth and your commitment to yourself as an artist and creative biz owner.
MY PROMISE TO YOU is that I will show up fully with my wealth of knowledge, experience and hard core listening and intuitive business skills to midwife you to a stronger place where you shine in your world. It's gonna take trust, gumption and showing up fully even when you're nervous… I will be in your corner and am skilled at creating a safe and supportive space to usher out your brilliance!
I WILL SUPPORT YOU AND SHARE MY OVER A DECADE OF WORKING PROFESSIONALLY as an artist, illustrating 4 children's books, authoring 2 painting books, licensing my work to a home decor company, cards, dresses, working with a prestigious illustration agent of my dreams and then deciding to change direction to a personal practice, while teaching over 30 online classes with thousands of students, running an in person art studio with classes for 5 years, Creative mentoring over the last decade and seeing clients soar AND co-leading 12 International Art retreats to Morocco, Costa Rica, Mexico and so much more!! I've learned all this through trial and error, that I'd love to save you the headaches, money and time!
DARLING, YOU ARE WORTHY OF THIS AND SO MUCH MORE!
Register now to secure your spot!
(If you're not a right fit at this time after we chat, your payment will be returned immediately.)

(from my other mentoring and creative biz courses)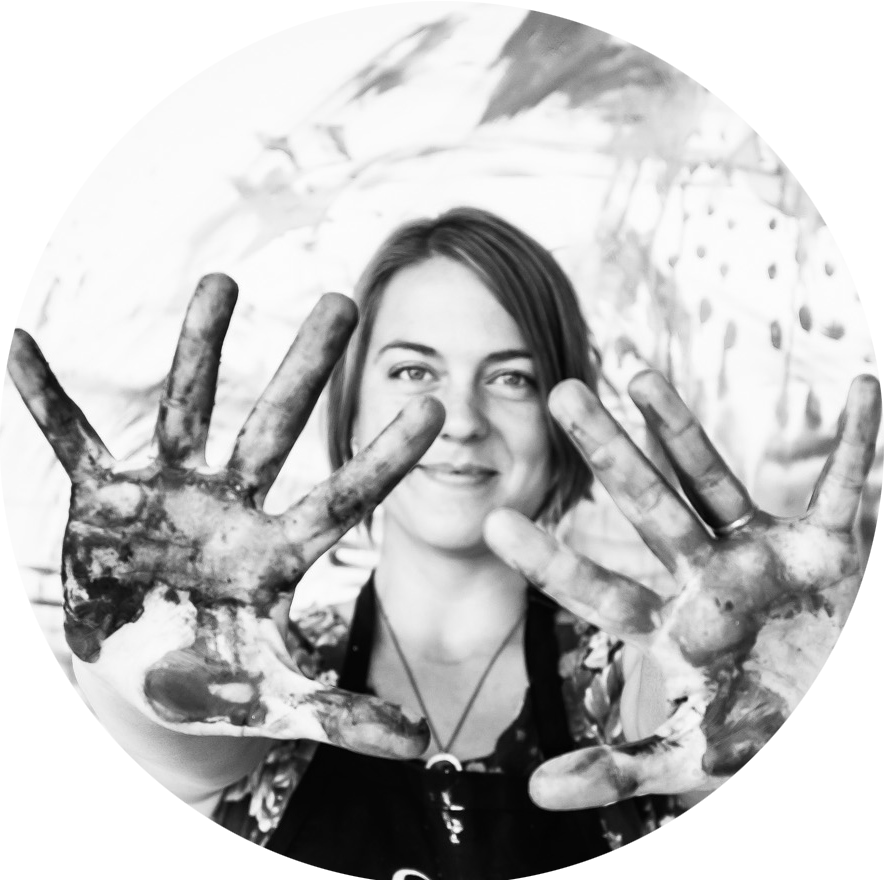 In this world of being painter ladies who teach and share online, Mati Rose was like Beyoncé to me – such a shining star! So when she offered this course, I jumped at the chance to learn from her experience.  At first I was hesitant about the cost of the course since I was starting my biz on a shoestring budget, but I can tell you, it was super worth it.  This course was like a catapult for my creative career.  I devoured every assignment and interview. If you take this course, definitely clear your schedule because there is so much goodness to absorb. Mati was so generous with everything that she shared, and I met such awesome kindred spirits in the course.  There are a lot of e-courses out there and this is the one that has made the biggest impact on my career. It is such a gift to our community. If you do the work, be prepared for your creative biz to take off!"
– Annamieka Hopps Davidson, Artist: www.annamieka.com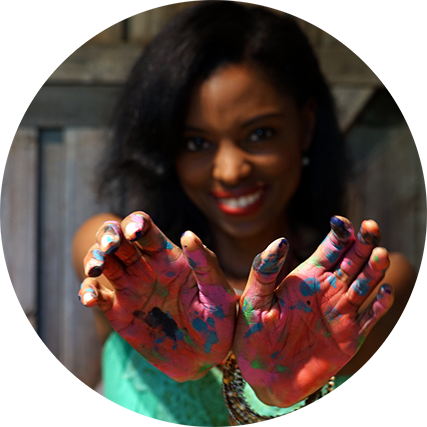 When I started pursuing a creative path, I didn't even have a website or business cards. I was struggling to find my voice and really needed a community I could connect with. Daring Adventures in Creative Biz is just the right mix of butt kicking and support. Here are a few of the things I've accomplished since taking Mati's course:
Landed an ANTHROPOLOGIE LINE!!!
Created a website
Featured in Design*Sponge
Launched two collections
Completed an artist residency in Hudson, NY
Had a pop up shop and live painting event at Pottery Barn
Started The Creative Brunch Series and hosted several maker workshops in my local area
And so much more!
Also started my Daring Adventures in traveling to Italy and Costa Rica soon on art retreats! I'm just getting started and I'm excited for all we will do together!!"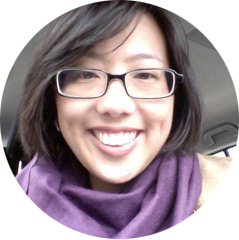 Mati's DA in Creative Biz class is amazing! It was just what I needed to push me to stretch my wings in my art practice. Mati's style is so encouraging and helps create a supportive environment where we can be ourselves and feel brave enough to take leaps towards our dreams. Because of her class I've started my own workshops, e-course and also have more ideas in the works. Highly recommended!!"
— Nancy Benton www.nancybenton.net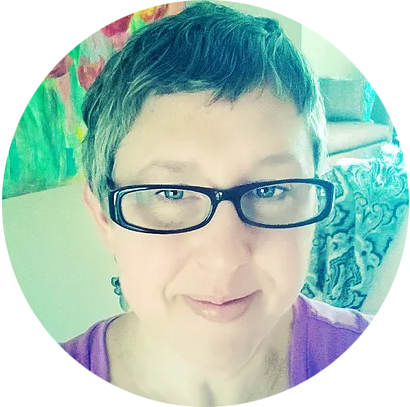 Mati, it is with a heart filled with gratitude that I say…"thank you!" Thank you for being true to yourself so that in turn it empowers others to be true to themselves. You truly lead by example!! It has been an incredible gift to receive so many hard earned pieces of wisdom from you. I have always felt that I could honor where I am at in my creative journey in this class and did not feel any shame about not doing "it" (whatever "it" is) the "correct" way. So much freedom has been modeled, imparted and given…thank you. You are a precious gift to this world and to those of us who call ourselves "creatives." May your gift of presence continue to shine brightly and bless others as you journey.
—Laura Wolfe, www.laurajwolfe.com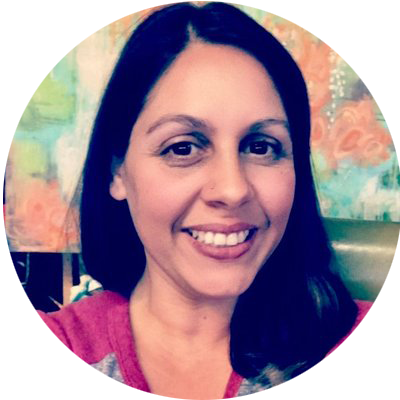 Daring Adventures in Creative Biz was such a great experience not only did I get so much insight into what I need to do to pursue my passion I also met a great group of like minded friends. We went through the journey together and celebrated each others accomplishments. Mati is a great mentor and has such a great spirit! She truly cares about each persons goals. I definitely feel like she touches on many questions I had about starting my creative biz.
— Amy Walker, Amy Walker Art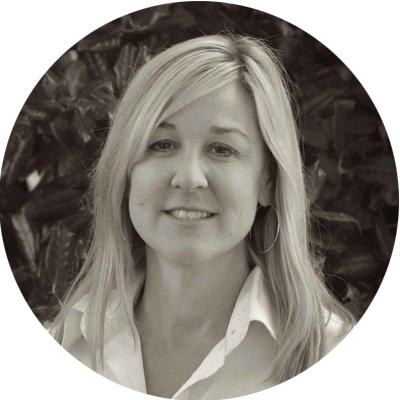 Mati's "Daring Adventures in Creative Biz" class helped me focus on reaching my goals through inspiring videos by Mati and guest speakers, goal-setting techniques and accountability. The class size was small enough to allow for specific feedback from classmates and Mati. The uplifting and positive atmosphere of the course, along with the solid content has helped me move in the right direction with my business. It was like having an art business life coach! I'll be continuing on with the next course. Thanks so much Mati for your inspiration and guidance.
–Pam Wingard, Barefoot Studios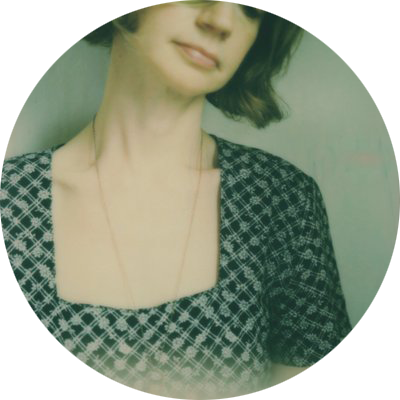 Why do you want to work with me as a creative mentor? Um, because you are AWESOME! My first course with you was Daring Adventures in Abstract Paint in 2016. I'd been struggling for about 15 years to unearth the art I felt I had inside me. But I had this feeling that you could help me break through. I'd been following your work through your Etsy shop, blog, and Instagram and I had bought two of your original paintings (which I still swoon over daily). I could just sense that you were a sweet soul & a kindred spirit. Which you are! With your online course, you made art-making accessible to me. You gave me permission. You opened the door and convinced me to get started. The opportunity to watch you paint, to actually SEE your process, and to hear you speak about it as things were unfolding – what a gift! I also enjoyed the fact that, in your videos, you seemed to work very intuitively, but alongside of that you offered detailed information about specific techniques. Since taking that course, I've gone on to explore many of your other offerings – A Field Guide to Painting Birds, A Field Guide to Painting Blooms, and most recently, Daring Adventures in Creative Business. All have been inspiring & empowering, and also encouraging in terms of staying true to my own creative voice. It's really wonderful to have forever access to these courses and I actually do revisit the videos all the time. They are so rich with information & inspiration! You are so generous with what you share & teach, I just know you will be an amazing mentor. And I'm so excited about chatting one-on-one with you because, hello, I'm an introvert. Thank you for being you, Mati. <3″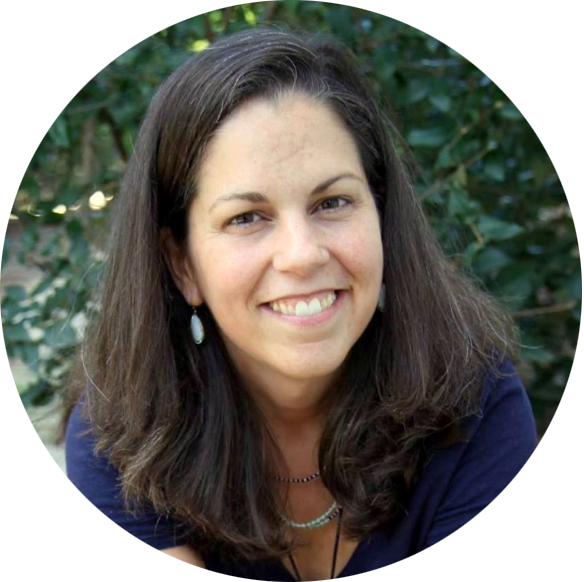 I was a bit hesitant to register for Daring Adventures in Creative Business. Was my art good enough? Was this course for me? I'm glad I decided to register. Committing to myself and my work in this way was a fantastic experience. Participating in each of the lessons felt like an investment in myself and my future. Mati was extremely involved in the course and always attentive to questions and comments. The themes of each week built upon each other and hit on the foundations of creative business – goals, marketing, finance. The accompanying Facebook group was fun and supportive and something I will remain active in. Thanks, Mati"
– Jennifer Potter, www.jenniferpotterart.com

My wife and I have a mindfulness workshop business. It's going well, but we're really a lot better at the teaching than the marketing. A friend recommended Mati to help us clarify our marketing strategy. Well, our one-hour session with her was like JET FUEL. By the time she sent us a detailed action plan by email, we knew exactly what we wanted to do and exactly how we were going to do it. So great! She was the perfect combination of encouraging and innovative. She really stretched us, but in ways that we felt excited about. We'd highly recommend her to anyone that's looking for ways to extend their workshop business – or really any homegrown biz that requires marketing."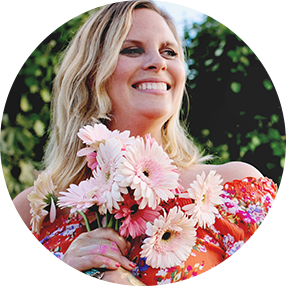 MATI ROSE MCDONOUGH is an artist and daring adventurer whose name is pronounced Matey, like Ahoy! She is an Oakland, California based artist, illustrator, painting teacher and author of "Daring Adventures in Paint". After wanting to be an artist for many years, but feeling like it was "impractical," at 29 years Mati took the leap and went back to art school at the California College of the Arts. Almost 10 years later, she is still excited and terrified every time she sees a blank canvas. She has had dozens of art shows, taught painting classes internationally and had her art used by clients Patagonia, University Games, Pier 1, as well as greeting cards, and her very own home decor line. She also has illustrated several children's books including "i carry your heart" written by ee cummings.
Through her workshops,book, and popular online course, she spreads a warm message of creative courage: IT'S NEVER TOO LATE TO SHOW THE WORLD YOUR MAGIC.