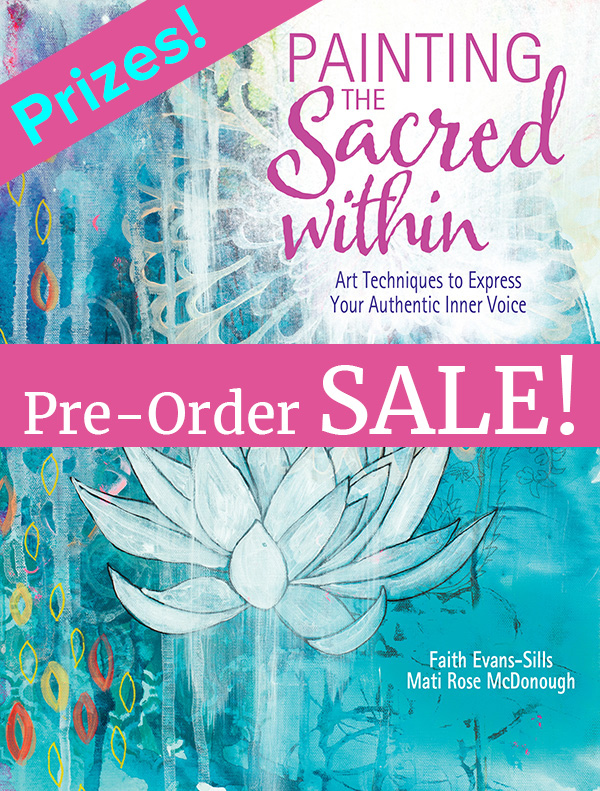 THE pre-order sale GIVE AWAY! HOW TO WIN:
Pre-order our book on Amazon.com by May 15, 2017
Forward your email receipt to faithevanssillsstudio(at)gmail(dot)com as proof of purchase. We must receive your receipt to enter you in the drawing!
Read the book and leave a review on the book page on Amazon.com

Talk about the book on social media with the tag #paintingthesacredwithin
We'll choose our winners in a random drawing on May 15, 2017!
WHAT YOU'LL BE ENTERED TO WIN
10 winners will receive spots in our new Painting the Sacred Within Monthly Membership E-Course & Community, a new subscription series that begins the day our book is released: June 1, 2017. On the first of every month for a year we'll release a companion package of rich online content to supplement each chapter in our book. These monthly online classes will consist of video painting lessons, start to finish painting videos & inspirational prompts to go deeper into each chapter topic at your own pace within a private online community of world wide artists.

5 winners receive spots in our new Abstract Bliss E-Course: Diving Deep into a new way of seeing through Abstract Painting!

5 winners will receive their choice of art print from either Mati or Faith's shop.

10 winners will receive $50 gift certificates to our web-shops.

2 winners will each receive one Original Collaborative Painting created by Faith & Mati.

5 winners will receive a signed copy of our book when it's released June 1st, to keep or give to friend!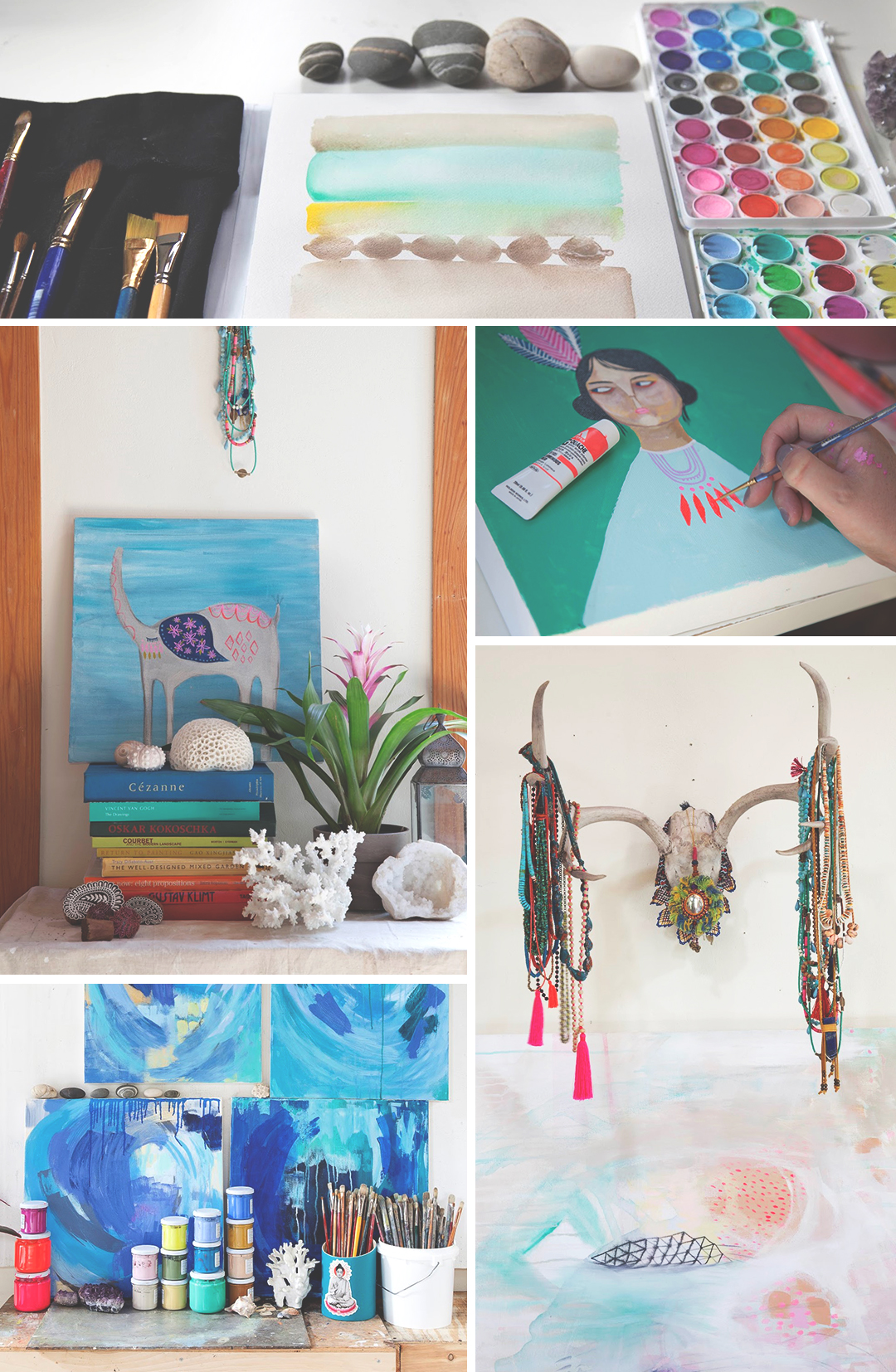 ABOUT THE BOOK: CLAIM YOUR SPACE. START PAINTING. BEGIN NOW.
Released in May 2017 Painting the Sacred Within is a gathering of all of my favorite layered painting techniques, tips and tricks, woven together from over 20 years of personal painting experience, with personal stories and painting demos to help you unlock a new rhythm of working intuitively to allow space for your own transformation.
My co-author Faith Evans-Sills and I based this book on our beloved year long e-course of the same name, in which we dive deeply into a different painting topic every month. Inside these pages, you'll discover that we've developed each month's topic into twelve rich areas of focus as you learn to see your world through paint and to experience deeper self-exploration. You will learn new ways of seeing, how to experiment with abstract techniques, how to harness inspiration from nature, how to create nature mandalas, paint soul animals, how to meditate with mandalas and much, much more.
Experiment with freeing and engaging techniques such as pouring paint, lettering with a brush and painting on unconventional surfaces.
Uncover the continuous thread that runs through your work as you develop art-making rituals and learn the importance of investing time in your creative dreams as you develop healthy studio habits.
In addition to more than 14 step-by-step start to finish painting demonstrations, you'll discover inspiring works from guest artists, learn helpful tips on self-care and find a plethora of ideas for making creativity a part of your lifestyle.
Photo credit Julia Lynn Photography
PRODUCT DETAILS
Paperback: 144 pages
Publisher: North Light Books (June 1, 2017)
Language: English
ISBN-10: 1440348472
ISBN-13: 978-1440348471
Product Dimensions: 8.8 x 0.5 x 9.2 inches
Shipping Weight: 1.1 pounds, 8.5 in x 11 in / 216 mm x 279 mm
PREORDER THE SIGNED BOOK for $16.37