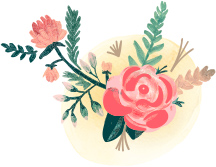 FLOWERPOWER Early Bird Deal: $179 TODAY!
AVAILABLE TODAY!
$154 SAVINGS OFF THE FULL PRICE OF $333 (so good!)
USE CODE:

FLOWERPOWER

– $179 TODAY (SAVES $154)
FOREVER AND UNLIMITED ACCESS!
"If we could see the miracle of a single flower clearly our whole life would change."
– Buddha
Hello Radiant Creative, are you obsessed with flowers and wish you could capture their beauty in paint?
But you feel unsure where to start or overwhelmed with perfectionism? Are you wanting to feel more Alive and Abundant, both in life and your artistic practice?
Good news, we got you covered! We created this online art course, because like you, we also love to stop and smell the flowers on our walks and take a billion flower photos. We also understand that painting one of the most gorgeous subjects can feel sometings daunting… yet we pushed past the blocks and unlocked SO MUCH HAPPINESS in our process. We had this desire to share our nourishing painting experience and our playful approach so that ALL and anyone could feel comfotable and confident expressing their innate connection to nature & art making.
We believe time in nature can help center and ground us, this is especially needed in busy times like today. It feels healing when we carve out time to site or walk outside simply for the sole purpose of admiring what we see. We wanted a way to bottle this feeling and also liked the idea of making pretty creations to hang on our walls that would remind us on how we felt in the garden amongst the flowers, at peace and abundant!
It was a definite yes to team up to bring you Abundant Blooms, a soulful painting experience that makes painting flowers freeing & fun!
Register TODAY for our Early Bird Special Savings!
Use Code: FLOWERPOWER & SAVE $154 until July 14th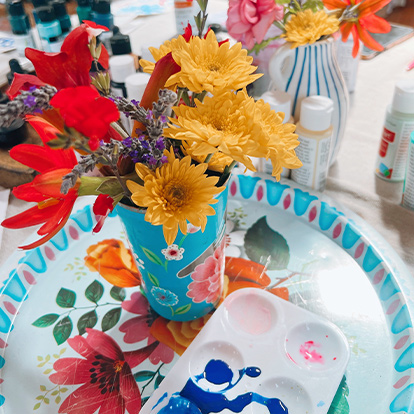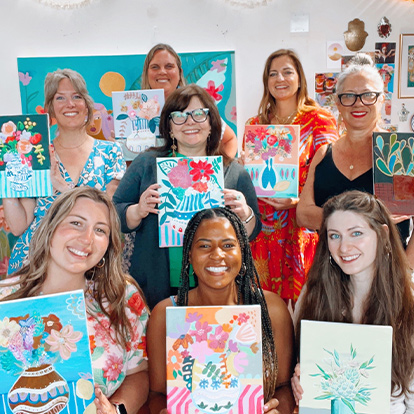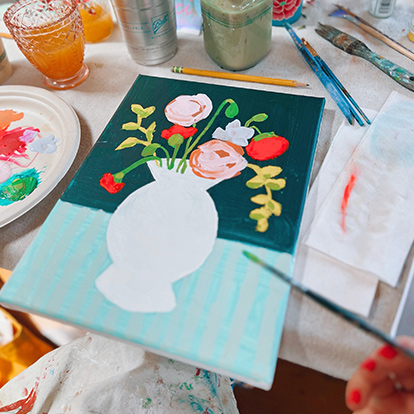 An online Acrylic & Mixed Media painting course designed to help you EXPRESS & EXPAND your unique creative voice and celebrate your love for beautiful blooms!
6 weeks with plenty of fun and freeing creative exercises, step by step lessons on how to create a rich, LUSH, layered botanical painting with ease and JOY!
Two well known expert teachers Mati Rose & Lily Sol to guide you throughout this painting practice, support from a community of creatives, and making artworks that lights you up and encourages you to BLOOM!
Plus priceless bonuses to help you go deeper with your art practice: written journaling prompts, relaxing playlist, a large collaborative painting demo + more!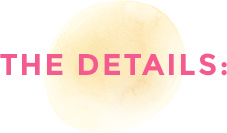 WHAT: An online Acrylic & Mixed Media painting course designed to help you EXPRESS & EXPAND your unique creative voice and celebrate your love for beautiful blooms!
WHEN: Begins on July 24th for 6 weeks of class with a group of creatives all over the world! Classes are released each morning in your time zone so you'll be able to access them on your own schedule.
WHERE: Online in our private password protected classroom. Self Paced for 6 weeks and you'll have access forever.
WHO is this class for? Painting Flowers is for EVERYONE!
Whether you are new to painting or an expert, this class is designed to light you up. Think of it like a gift basket of resources that will surely awaken your inner creative spirit and get you MAKING! That is our big goal for this course, to inspire others to move past any blocks around painting flowers and to learn something about themselves while honoring their desired to paint with passion…


EYE CANDY INSPIRATION & MIXED MEDIA MATERIALS:
Feeling lost? Don't worry, we know exactly where to look to find inspiration for your work. We share some of our go-to resources for instant artistic ideas, like floral arrangement books, free images, nature outings, and floral artists that will surely spark delight and get you ready to paint! We share a list of simple and affordable materials and also higher end favorites.
We'll use a variety of mediums including: pencil, inks, pastels, paint pens, collage paper, and acrylic paints. This is why it's called ABUNDANT Blooms, however not all materials are necessary to have the best time creating! Permission to use what you have or go all out on a shopping spree.

DELIGHTFUL DRAWING & CURIOUS WARM-UPS:
Starting with loose and playful contour warm-ups, we break down the fundamentals of drawing flowers with easy sketching, ink, and pastel prompts. Quick and freeing plant shape studies to get you moving. We simplify how to create flower & leaf designs in a abstract way.

BOLD BRUSHSTROKES:
It's all about practice and having FUN, let's keep warming up by creating painted blooms on paper and create some personal marks to make your final painting pop and feel one of a kind! We share our go to brushes and brushstrokes for making quick and eye-catching flowers.

COHESIVE COMPOSITION AND COLOR CRAVINGS:
There are so many layouts and colors to choose from. Let's try out some using tiny and larger elements to help our eyes flow around the canvas or lets try shifting our focus by creating a dramatic focal point. We show you how to balance your painting using composition and color theories. How to pick and mix colors for a delicious palette you might want to eat, please don't!

BACKGROUND LAYERS AND DESIGNING YOUR STYLIZED CANVAS PAINTING:
Let's take all the paper practice from our sketching, composition, color explorations and turn it into a work of art. We'll show you how we transform our playful sketchbook practice and turn it into a masterpiece. Stylized vases, tropical plants, and bold bouquets are some of the themes we'll highlight for our final creations.

DELICATE DETAILS AND FANCY FINISHING TOUCHES:
Let's add the final touches using collage elements, paint pens, gold leaf, words, personal marks, and add more balance or simplify where needed. We get it, a blank canavas can feel intimidating and finishing a painting can be challenging, but we're here to support you on this creative journey every step of the way!.
PLUS WE'RE GIVING YOU SO MANY AMAZING BONUSES:
Flower Power playlist
Written Journal prompts to help you feeel more creative and abundant
Tips for getting unstuck
Community of creative friends to share you joy with
Access to Paint It Out Course, Flower Power Lesson with Mati & Lily ($50 Value)
Collaborate Going Big Painting Demo
Lifetime access
Guaranteed good times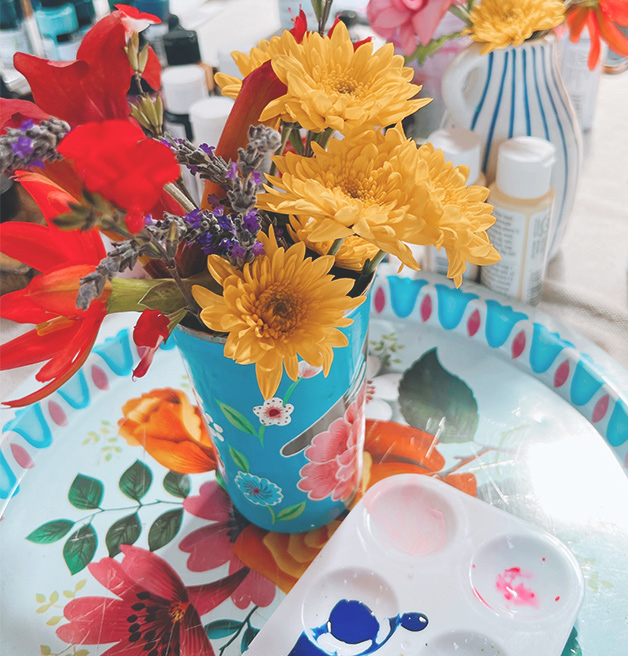 FLOWERPOWER Early Bird Deal: $179 TODAY!
AVAILABLE TODAY!
$154 SAVINGS OFF THE FULL PRICE OF $333

(seriously!)

USE CODE:

FLOWERPOWER

– $179 TODAY (SAVES $154)
FOREVER AND UNLIMITED ACCESS!
Hurry to get the Early Bird Deals. Class starts July 24th!
TOTAL VALUE: over $400
TODAY'S PRICE: $179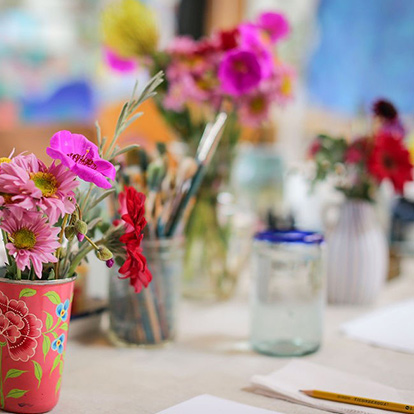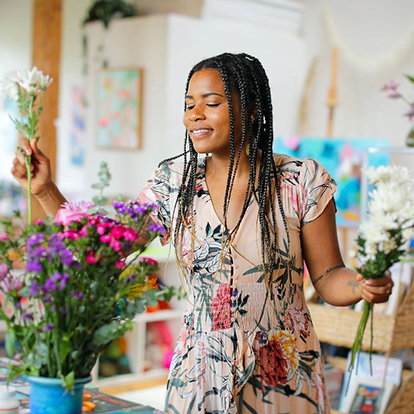 "A flower does not think of competing with the flower next to it. It just blooms."
– Zen Shin

Two boss lady creative friends, sharing their love for making bold & bright work while sharing their passion for teaching and bringing the gift of creativity to people around the world!
Featured in "In Her Studio" Magazine, they teamed up to open a shared art studio in Berkeley, CA forming a collective of 8 artist women, where they also host in person workshops and retreats.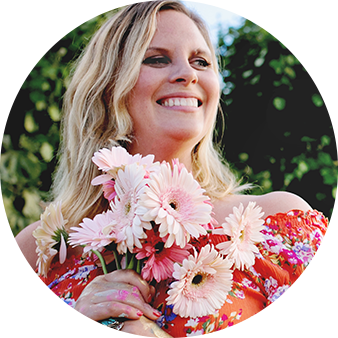 MATI ROSE 20+ years as a full time artist, studied Painting at the California College of the Arts, a global art retreat leader and creative mentor, published author of several painting & children's books, who's know for her bold and expressive large abstract paintings. Mati coaches & inspires people on how to find their artistic voice and share their magic with the world. She finds inspiration while hosting art retreats in tropical places like Costa Rica, Morocco, and Mexico..
Why do you paint? "I paint to feel free and alive! I love color and movement and making something beautiful out of a blank canvas. Painting helps me move energy and process my emotions in the studio. I am able to express all that I love in life through color combinations and vibrant brushstrokes." @matiroseart
A FEW FUN FAVORITES
Favorite flowers: Lilacs, Peonies
Favorite travel destinations: Marrakech, Morocco, Nosara, Costa Rica, San Miguel de Allende, MX
Favorite colors: Turquoise and hot pink always wins, lately more off colors like lavender and terracotta
Favorite Foods and Desserts: Chocolate & coffee… is that a food? Tacos! Pad Thai! Pho!
A creative practice you'd like to try: hmmm… pottery!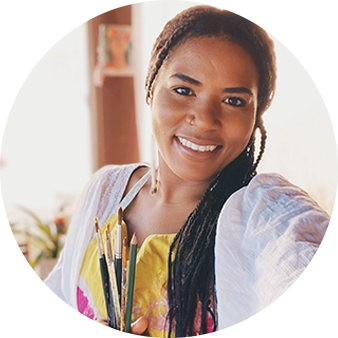 LILY SOL She channels jungle and flower goddess vibes, she's inspired by the ocean and tropical places, had her work licensed with Jungalow and taught a 30 day feminine energy art journal practice with Creative Bug. She enjoys dancing and is a certified YS energy/mindset coach. Why do you paint? "Painting to me is like a spiritual practice. It all starts with exploring things that make me feel alive, like getting in nature or dancing to upbeat tunes, then quieting down and listening inward, channeling all that goodness onto the canvas. When I'm painting and get into flow state I feel connected to the source and it's the most zen and freeing feeling. Painting allows me to bring my imagination to life and practice trusting my intuition, letting go, and staying open all while making a big mess. I'm grateful for this practice and can't wait to paint more blooms!" @lilysolstudio
A FEW FUN FAVORITES
Favorite flowers: Hibiscus, Peonies, and Gardenia
Favorite travel destinations: Hawaii, Mexico, and Bali
Favorite colors: Deep green, ocean turquoise, all pinks, rust and calming lavendar
Favorite Foods and Desserts: Thai food, sushi, tacos, anything fruity like mango or mint
A creative practice you'd like to try: pottery or punch needle
Go to painting tip: close your eyes, connect to spirit, and stay curious!



Such an incredible experience! Mati and Lily are such experts at their craft and amazing teachers. Would highly recommend their classes."
– Kiana Jardin


I had such a great time at Abundant Blooms! Thank you Lily and Mati for sharing your space, knowledge and beautiful spirits with us! A perfect afternoon with a lovely group in an amazing studio space of Mati and Lily. What a great reminder of how fun it is to make a different kind of art and be in the moment."
– Kaci Smith


Had an amazing Sunday at the Abundant Blooms workshop by Mati and Lily! They are such amazing souls and talented artists. Their studio space is so beautiful, you can't help but be filled with inspiration! Still smiling from all the painting magic at the Moonflower Studio! So fun meeting new talented women artists and getting creative, can't wait for the next workshop!"
– Kristin Kuiper

AND REFRAME THOSE LIMITING BELIEFS
"BUT I'M NOT AN ARTIST"
We believe we are all born with a divine creative spirit. Just like any other thing you want to get better at you much start and practice to grow.
"I'M TOO BUSY"
We've included some short and sweet warm-ups and this course is self paced so go as fast or slow as you like, it's lifetime access so no pressure to sit down and do it all at once. Carve out 15 mins a week or two days a month to learn when you can.
"I DON'T HAVE FANCY ART SUPPLIES"
No expensive paints, no problemo, this is an art practice more than anything so start with what you have and build up to quality paints. I started with scrap paper, cardboard, $2 craft paints and an affordable kiddy watercolor kit (which we still sometimes use and think are awesome supplies no matter your skill level).
"I'M NOT READY TO SHARE MY VOICE"
You don't have to share your work on social media, but it's cool if you do. We shared our practice work, unfinished work, egh work and it led to all these kindred art buddies all over the world! #worthit
"FLOWERS ARE TOO HARD TO PAINT"
"Hard is a subjective word," but for real anything can be hard until you try, so give yourself grace, let yourself make ok art and just like us, flowers come in so many varying shapes, sizes, and colors and we think that's absolutely stunning and so is your unique artistic voice. ALLOW and Honor whatever comes out. The greater goal is to learn something in the process of making, so make for the sake of making for fun and see what you discover. Or make art to process a feeling, it's all good, we're here to support you along the way!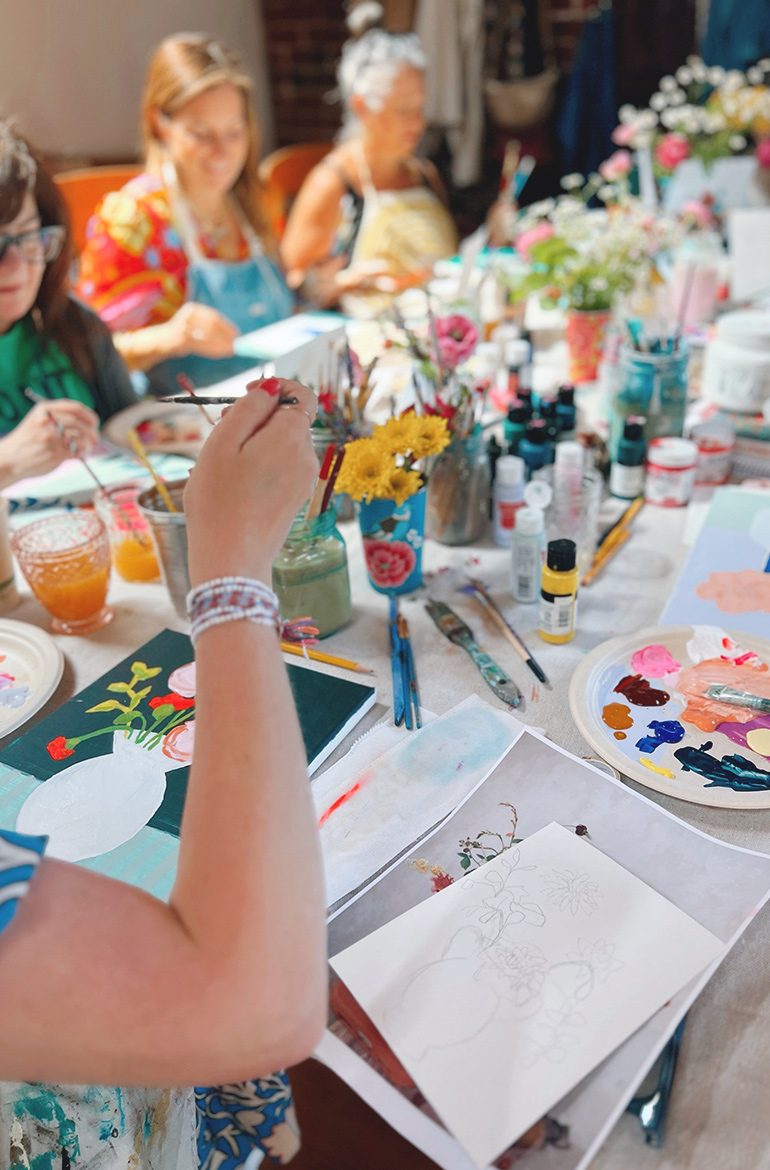 "And the Day Came When the Risk to Remain Tight In a Bud Was More Painful Than the Risk It Took to Blossom."
– Anais Nin
 FLOWERPOWER Early Bird Deal: $179 TODAY!
AVAILABLE TODAY!
$154 SAVINGS OFF THE FULL PRICE OF $333

(amazing!)

USE CODE:

FLOWERPOWER

– $179 TODAY (SAVES $154)
FOREVER AND UNLIMITED ACCESS!
Hurry to get the Early Bird Deals. Class starts July 24th!
TOTAL VALUE: over $400
TODAY'S PRICE: $179