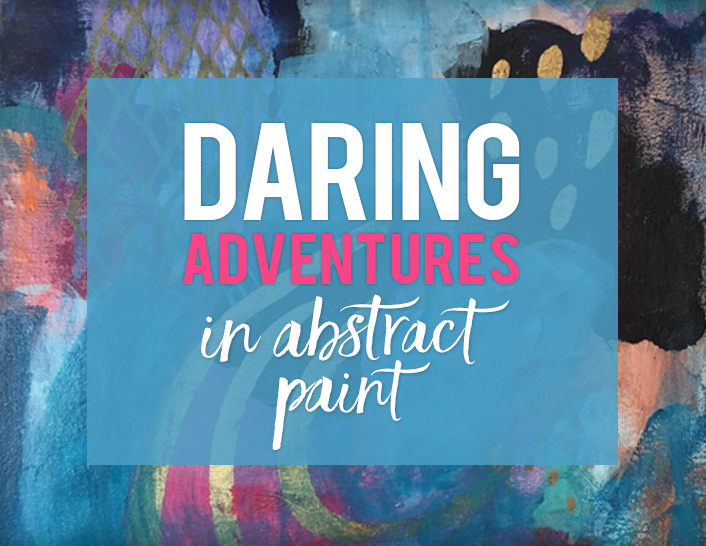 I'm so excited to announce Daring Adventures in Abstract Painting – COLOR LOVE!!!
This fun 8 video lesson class is going to build in color collecting along the way!
– Push yourself with new color combinations
– Really dive deep into color mixing
– Pair colors that normally wouldn't go together
We're going to re-mix the DA in Abstract painting class! Adding a few more painting videos with a focus on COLOR!
In this 8 lesson painting class we'll dive into delicious world of Abstract Painting!
JOIN NOW: Available now instant access to go at your own pace!
INSTANT + FOREVER ACCESS: 50% OFF $89 (Regular $179)
DARING ADVENTURES
IN ABSTRACT PAINT
[ INSTANT+ FOREVER ACCESS ]
ANNOUNCING DARING ADVENTURES IN ABSTRACT PAINTING—COLOR LOVE!!! THIS 8-LESSON CLASS WILL BUILD IN COLOR COLLECTING ALONG THE WAY! PUSH YOURSELF WITH NEW COLOR COMBINATIONS AND DIVE DEEP INTO COLOR MIXING.
IN THIS 8 LESSON PAINTING CLASS WE'LL DIVE INTO DELICIOUS WORLD OF ABSTRACT PAINTING!
CLASS DETAILS
WHEN:
6 weeks, with Instant Access + Forever Access upon purchase
WHERE:
Online, self-paced
PRICE:
50% OFF SALE $89 USD
THIS CLASS WILL BE ALL ABOUT PLAYING* WITH COLOR AND ABSTRACTION! WE WILL EXPLORE LAYERING, MARK-MAKING AND BOLD MOVES.
*Key word here is PLAY!! I want to share with you the joy that abstract painting can be. No experience necessary. I'll be creating work alongside my amazing assistant and talented artist Lily Uoka.
WE WILL CREATE LUSH BEAUTIFUL PAINTINGS FROM YOUR DREAMS TO THE CANVAS AND TO YOUR WALLS!
SOME OF THE THINGS WE'LL TACKLE IN THIS CLASS TOGETHER: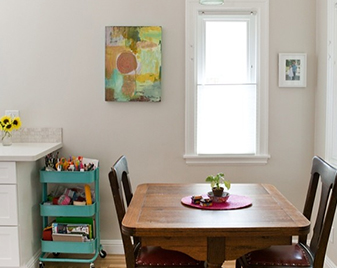 WORKING BIG!

STENCILS

GOLD + SILVER LEAF

FLUORESCENTS

DEVELOPING YOUR PERSONAL COLOR STORIES

PLAYING

ETCHING

DRIPPING
MARK MAKING

LAYERING

GAINING CONFIDENCE

ABSTRACTING FLOWERS + LANDSCAPES

PERSONAL SYMBOLS

COMPOSITION

USING MEDIUMS + GLAZES

SPRAY PAINTS, GOUACHE & VARIED PAINT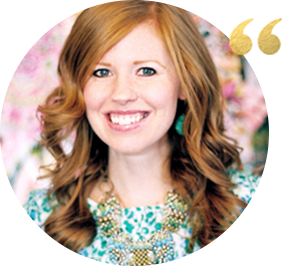 I've absolutely loved taking your classes! They've pushed me to explore, find my own style, and just jump in and get started. I'm a professional commercial artist, and through your classes I've discovered a love and joy in painting I didn't know was there. It's a different type of art than I do every day which makes it SO MUCH FUN! Thanks for all you are doing for everyone Mati!"
– Josephine Kimberling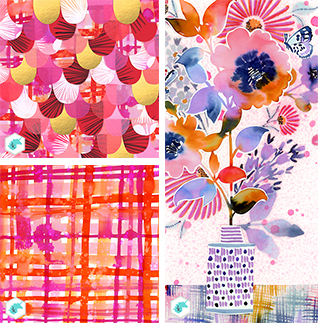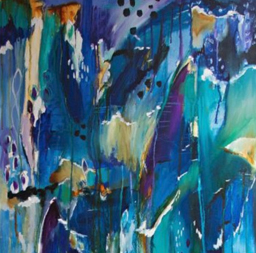 It's a bit embarrassing to admit, but this is the first online painting class I've managed to keep up with and I'm convinced it's because this class was so FUN and full of wonderful inspiration.
THANK YOU, Mati and Lily for a fantastic experience. And thank you to all of the other students as you have all be a HUGE source of inspiration and encouragement!"
– Kelly Luna

Absolutely loved the course and as you know it's been a game changer for me.
I've been very busy with work and all sorts of projects since the course. Branching into abstract art has opened many doors for me."
– Laura Horn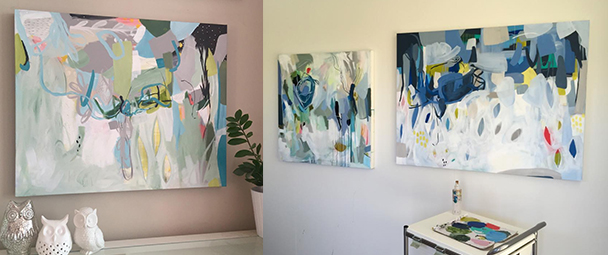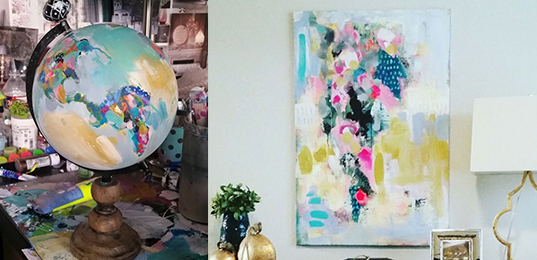 This was the best class!!! I finally feel like I'm finding my voice and had SO much fun doing it.
Thank you guys for showing up, being brave, and making beautiful work!!! Hope we can all stay in touch Ginormous hugs from Texas!"
– Nikki Cade
COME JOIN THE FUN!
8 VIDEO LESSONS INCLUDE:
MARK MAKING

COMPOSITION

COLOR INTENSIVE

BLOOMS

WORKING BIG
You never know where these paintings can take you!
Recently I jumped off the canvas and collaborated with clothing label on a dress line with my abstracts and interior spaces: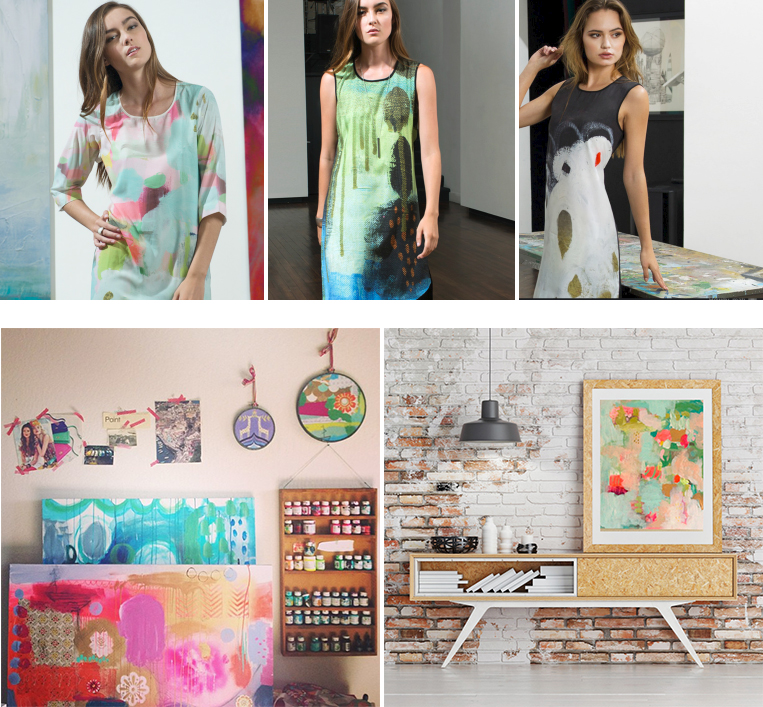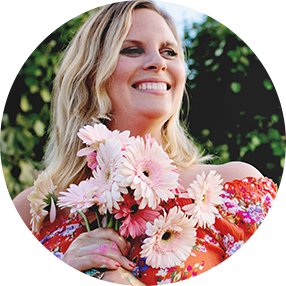 MATI ROSE MCDONOUGH is an artist and daring adventurer whose name is pronounced Matey, like Ahoy! She is an Oakland, California based artist, illustrator, painting teacher and author of "Daring Adventures in Paint". After wanting to be an artist for many years, but feeling like it was "impractical," at 29 years Mati took the leap and went back to art school at the California College of the Arts. Almost 10 years later, she is still excited and terrified every time she sees a blank canvas. She has had dozens of art shows, taught painting classes internationally and had her art used by clients Patagonia, University Games, Pier 1, as well as greeting cards, and her very own home decor line. She also has illustrated several children's books including "i carry your heart" written by ee cummings.
Through her workshops,book, and popular online course, she spreads a warm message of creative courage: IT'S NEVER TOO LATE TO SHOW THE WORLD YOUR MAGIC.