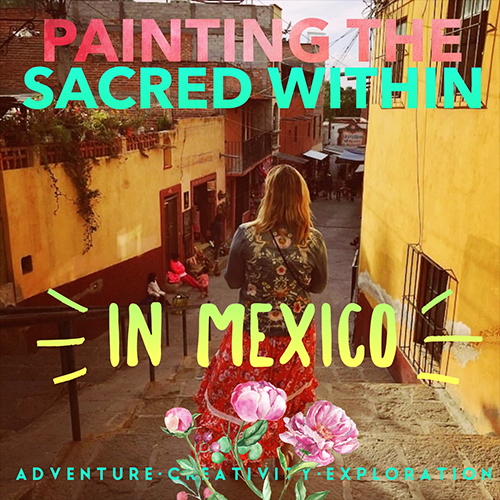 PAINTING THE SACRED WITHIN RETREAT
San Miguel de Allende
January 28 – February 3, 2019

Join us for a beautiful adventure in the heart of Mexico!
In a land of cobblestone streets, saturated colors and secret gardens, join artists Mati McDonough and Faith Evans-Sills on the exotic journey of a lifetime.
Join us in San Miguel de Allende, Mexico for a luxurious week long retreat of cultural exploration in the heart of Mexico, wandering colorful streets and workshops bursting with creativity and inspiration gathered on location as we journey in this historic land full of beauty. This will be a time to nurture the whole self, to slow down and soak in the environment with all of your senses. Mati & Faith will lead you through workshops on capturing inspiration with watercolor paint, providing you with the opportunity to meet the projects wherever you are in your art practice.
Located in Central Mexico with a temperate climate, interesting art scene and historic architecture, San Miguel de Allende is a favorite among expats looking for a low key and charming existence. Known for its "eternal springtime" weather, sunny skies and walls dripping with Bouganvilla, San Miguel is the ideal mid-winter escape. Mati & Faith have each traveled to San Miguel a few times over the years, having fallen head over heels in love with San Miguel's vibrant culture and colors! We can't wait to slow down and share the inspiration with a small group of kindred creative women. San Miguel is the perfect place to step out of our busy lives and refresh our spirits together.
Inspiration Gathering with Watercolor Painting will be our jumping off point as together we'll delight each of our senses with fresh food, walking tours, field trips down secret alleys, soaking in hot springs and so much more.
Consider this your invitation to join us on the adventure of a lifetime in San Miguel de Allende, Mexico, January 28 to February 3, 2019!
COST:
$3600 (double occupancy) – $4100 (single occupancy) Airfare is not included.
Our retreats sell out fast, so if you are interested in joining us on this adventure sign up early. Reserve your spot with your non-refundable $900 deposit.
DEPOSIT REQUIRED TO HOLD YOUR SPOT. TOTAL BALANCE IS DUE OCTOBER 15TH, 2018. PAYMENTS PLANS ARE AVAILABLE, PLEASE SEE FAQ'S FOR DETAILS.
DUE TO HIGH AMOUNT OF INTEREST, WE EXPECT THIS RETREAT TO SELL OUT QUICKLY. WE ENCOURAGE YOU TO PUT YOUR DEPOSIT DOWN EARLY, THAT WAY YOU'LL HAVE THE MAXIMUM AMOUNT OF TIME TO COMFORTABLY SPACE OUT YOUR PAYMENTS.
ONCE WE RECEIVE YOUR DEPOSIT WE WILL BE IN TOUCH AND SEND YOU TIMELY UPDATES AND TRAVEL TIPS AS NEEDED.
PAINTING THE SACRED WITHIN
RETREAT IN SAN MIGUEL de ALLENDE, MEXICO
[ WITH MATI & FAITH ]
6 DAYS & NIGHTS IN SAN MIGUEL de ALLENDE, MEXICO FOR A WEEK LONG RETREAT OF OPULENT LUXURY, GUIDED SHOPPING, CULTURAL EXPLORATION AND WORKSHOPS BURSTING WITH CREATIVITY AND INSPIRATION GATHERED ON LOCATION AS WE JOURNEY IN THIS EXOTIC LAND.
CLASS DETAILS
WHEN:
6 days & nights JANUARY 28 – FEBRUARY 3, 2019
WHERE:
San Miguel de Allende, Mexico
PRICE:
$3600 (double occupancy) – $4100 (single occupancy) USD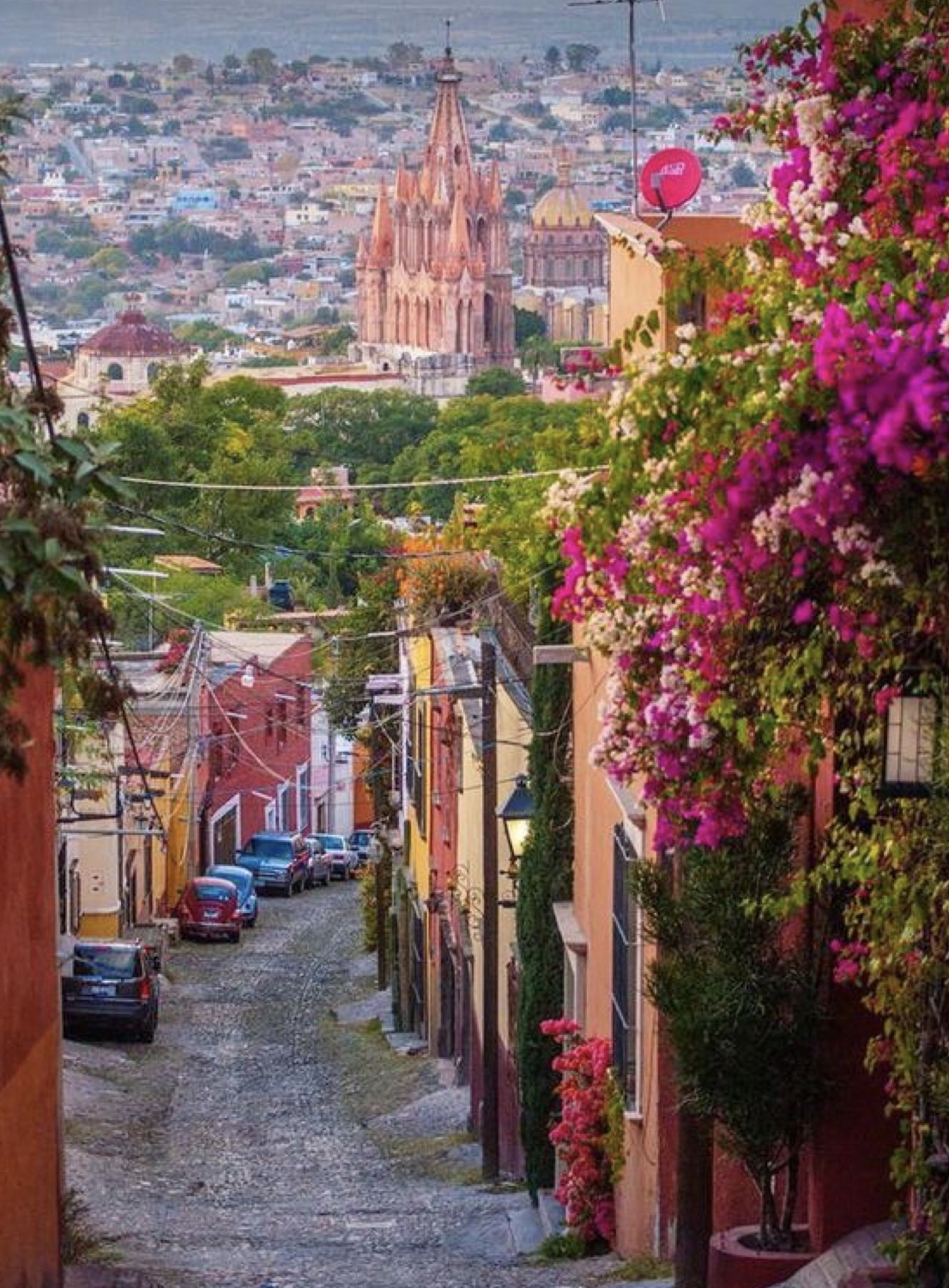 WE WILL BE STAYING AT THE MOST MAGICAL PLACE…a private luxury villa in the heart of the cultural center of San Miguel.
Nestled in its own private garden oasis, the private villa is a stylish, charming and home-like retreat that is located within the heart of san miguel de allende, it is the perfect location from which to explore the town of san miguel on foot. Three guest rooms are single occupancy, other guest rooms are double occupancy.
This luxurious private villa is built in the colonial style around a central garden with spanish arched column details and suites of refined architectural beauty down to the smallest detail. It combines authentic charm & discreet luxury in a contemporary atmosphere. The villa offers many different relaxation spaces to enjoy. From the roof top terrace take in breath-taking views of the town and surrounding mountains. The large central courtyard is equipped with lounge chairs & towels, giving you the option to unwind in the sun, in the private pool, or in the shade of a parasol. In addition to the spacious lounge areas, there are two double-occupancy, and three single occupancy, guest bedrooms each with spacious en-suite tiled bathrooms. The roof top and other common areas will act as our central meeting space for relaxing, gathering, art making or eating. The carved stucco and multiple balconies throughout, creates a beautiful exotic atmosphere within the internal courtyard and centrally located private swimming pool. There is a beautiful formal dining room and living room on the ground floor in the mexican tradition with lounge and fireplace.
The large roof top terrace with 360 degree views of the town of san miguel and surrounding mountains will be our main painting space for the week, providing us with so much glorious inspiration!
COST:
$3600 (double occupancy) – $4100 (single occupancy) Airfare is not included.
$900 non-refundable deposit required to hold your spot. Total balance is due october 15th, 2018. Payments plans are available, please see faq's below for details.
Due to high amount of interest, we expect this retreat to sell out quickly. We encourage you to put your deposit down early, that way you'll have the maximum amount of time to comfortably space out your payments.
Once we receive your deposit we will be in touch and send you timely updates and travel tips as needed.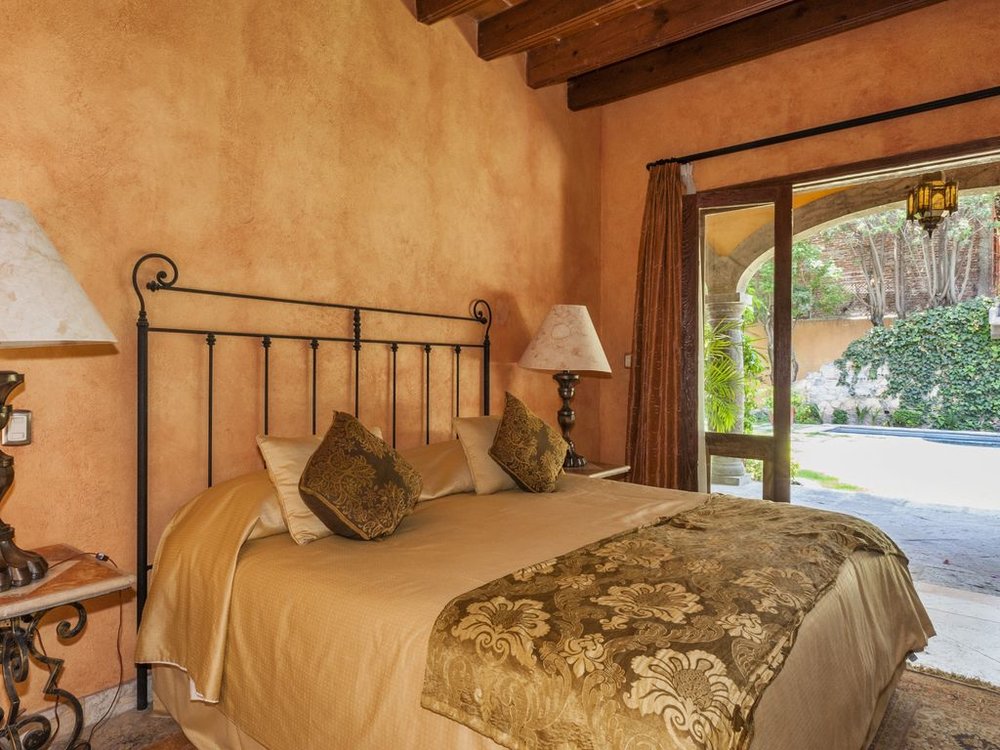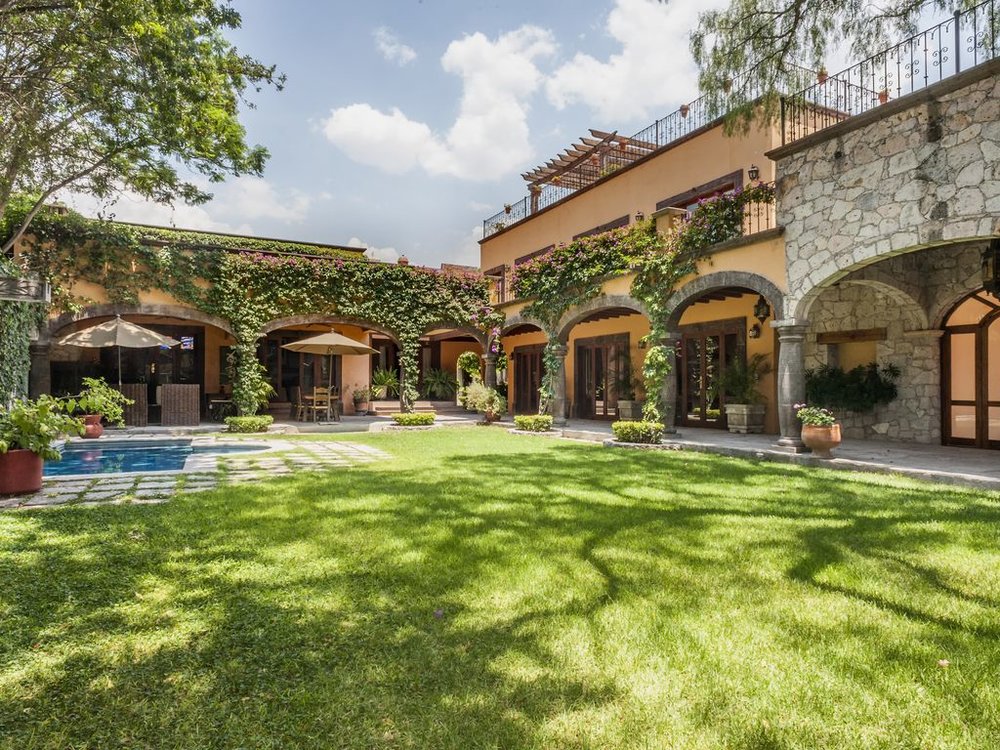 OUR LUXURIOUS 7 DAY ITINERARY: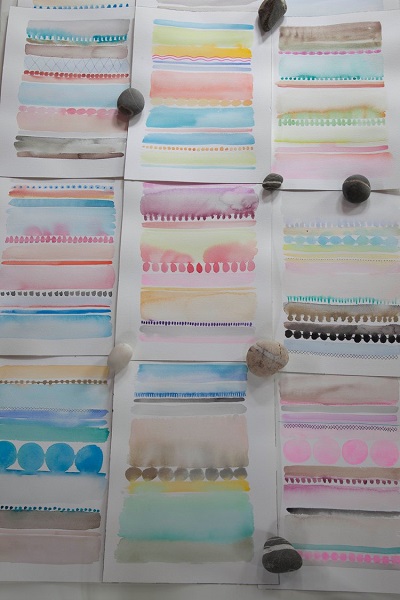 Monday, January 28 (day 1)- Arrival and Orientation: Arrive in Mexico. We suggest you plan your landing arrival time no later than 3pm local time. Transportation from the airport to our Villa will be provided. You'll have a chance to refresh yourself and settle into your beautiful home away from home, take a dip in the pool, relax on the roof top terrace, or explore the neighborhood. The Retreat will begin with an Opening Circle at 6pm, followed by a three course catered welcome dinner at the villa.
Tuesday, January 29 (day 2)- Painting Workshop & Walking tour of San Miguel: Breakfast at the Villa, along with an inspirational workshop on Watercolor Painting. Then it's off for some adventuring. Guided tours of San Miguel will be taking place, along with excellent guided shopping. We'll have lunch at a magical restaurant in town. Dinner will be enjoyed on your own at a fantastic selection of restaurants that we recommend in town.
Wednesday, January 30 (day 3) – Painting Workshop, Art Galleries and Shopping the Artisan Markets: Breakfast at the Villa, along with an inspirational workshop on Watercolor Painting. Then it's off for some adventuring. Guided tours of San Miguel will be taking place, along with excellent guided shopping. We'll have lunch at a magical restaurant in town. Dinner will be enjoyed on your own at a fantastic selection of restaurants that we recommend in town.
Breakfast at the Villa, followed by the continuation of our Watercolor Workshop.
Lunch at the Villa will be served family style on the poolside terrace. There will also be free time at the Villa to enjoy the grounds and pool and an afternoon trip to local art galleries, group shopping trip to a local art supply store and the famous Mercado de Artesanias.
We'll meet for sunset drinks & amazing views at The Rosewood Hotel. Dinner will be on your own at a fantastic selection of restaurants that we recommend in town.
Thursday, January 31 (day 4)- Free day to explore the area as you wish! Individual mentoring sessions with Faith & Mati: Breakfast at the Villa, followed by a free day for you to enjoy as you like. Sink deeply into relaxation with a massage, take a day trip to explore ancient pyramid ruins, wander the streets & re-visit favorite shopping and dining spots that you've already explored. There is so much to explore in San Miguel, you'll have the chance to go deeper and enjoy everything that this beautiful location offers.
In the afternoon Faith and Mati will schedule (optional) individual portfolio review sessions with each participant. This is your chance to get our personalized feedback and direction on your work, pick our brains for insight on career direction and come away with new understanding of your art and process.
Friday, February 1 (day 5) – Half day trip to the thermal hot springs & sunset painting workshop: Breakfast at the Villa, followed by an adventure to La Gruta Hot Springs and Spa where we'll soak in the natural thermal hot springs and enjoy lunch on the grounds there. The afternoon will be yours to explore San Miguel as you wish with free time for additional shopping and sightseeing in town. In the evening we'll reconvene at the Villa for wine and painting at sunset on the rooftop terrace. You'll enjoy dinner on your own at a fantastic selection of restaurants that we recommend in town.
Saturday, February 2 (day 6) – Workshop, Free Time & Closing Circle: Breakfast at the Villa, followed by a continuation of our Watercolor Workshop: Harnessing Local Inspiration with Watercolor. Lunch will be on your own in town. In the afternoon we will have the option for a final walk around town or another shopping trip to the artisan market, ending in the central square at dusk. In the evening, we will have a beautiful closing circle, art viewing of our work from the week and celebration of our time together over a 3 course farewell dinner at the Villa.
Sunday, February 3 (day 7)- Farewell & Departure: Breakfast at the Villa followed by check-out and transfer to the airport.
PLEASE NOTE: THIS IS OUR PROSPECTIVE ITINERARY. SMALL CHANGES MAY BE MADE DUE TO WEATHER, DESIRES OF THE GROUP AND UNEXPECTED OPPORTUNITIES.
FAQs: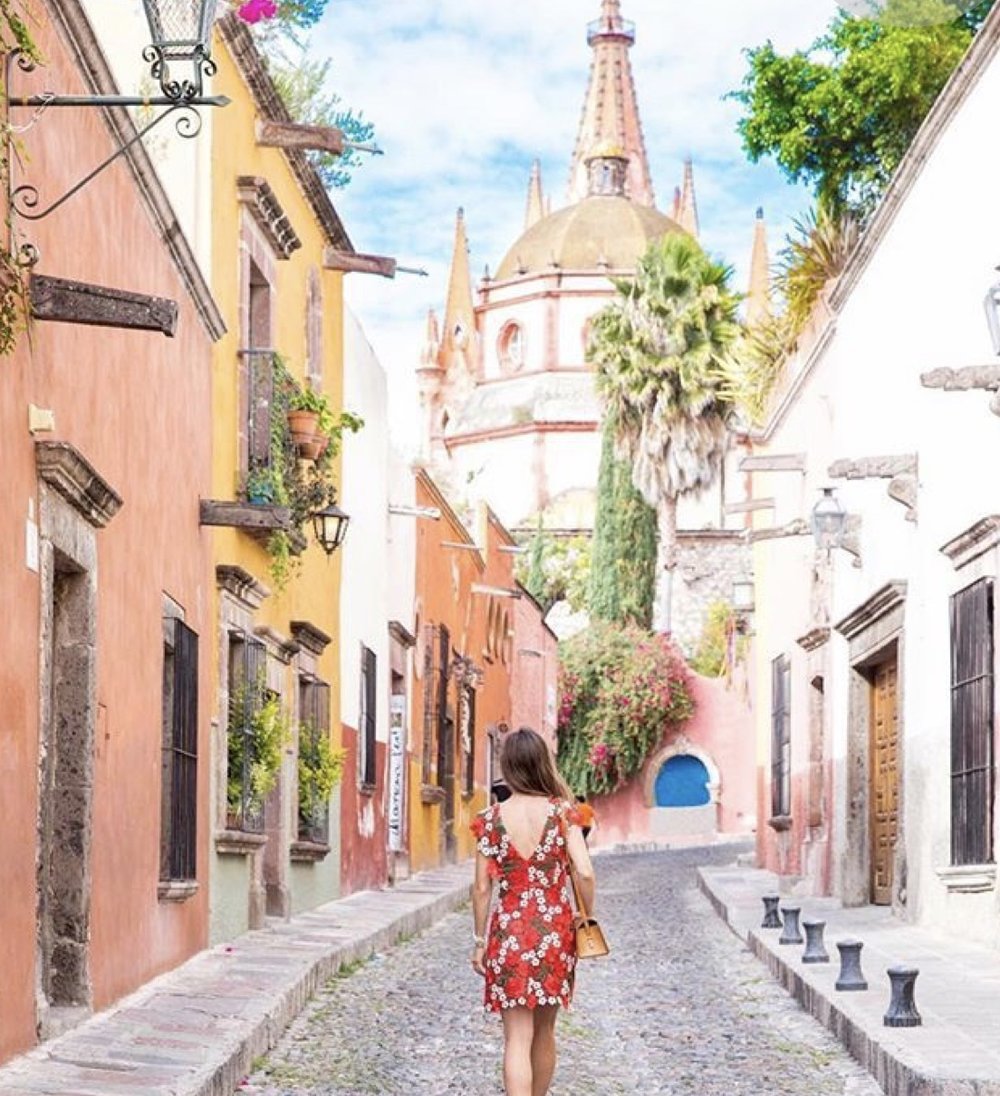 Are there payment plans?
Yes! Upon receipt of your $900 non-refundable deposit you may divide your remaining total into up to 2 separate payments. Total balance is due on or before October 15th, 2018.
What does the cost cover?
6 night stay at our own private luxury Villa with private pool
intimate group limited to 7-10 women
Group Airport Transfer and transportation to and from all destinations
Guided shopping and walking tour of San Miguel
A Welcome Gift Bag full of goodies upon your arrival.
Harnessing Local Inspiration: 4 Watercolor Painting Workshops with Faith & Mati
One Personal Portfolio Review & Mentoring session with Faith & Mati (45 minutes)
Group art supply shopping, local gallery tour & artisan market visit
6 Breakfasts, 1 family style lunch, welcome dinner on our first night, farewell dinner on our last night.
Half Day trip to La Gruta Thermal Hot Springs.
What isn't covered in the cost?
Your airfare is not included in the cost. Any meals eaten off of the Villa grounds (4 lunches, 4 dinners). Expect to pay $15-$20 for lunches and $30-$60 (depending on the restaurant) for dinner. Anything you buy in the markets or on various trips will not be covered as well as any extra tours or excursions that you choose during your free time if you choose to go.
Do I need travelers insurance?
We highly recommend it.
How much money should I bring for spending?
That is totally personal and depends on how much shopping you plan to do. ATM's are available to you and credit cards are taken at some major retailers.
Do I need immunizations?
Please see the CDC recommendations here.
Do I have to share a room?
Our private Villa is a luscious and intimate retreat space, we will have the entire property at our disposal. Each of their rooms are uniquely beautiful with en-suite bathrooms. Three of the rooms are single occupancy with one king bed which will be given on a first come first served basis. Bed sharing is optional for these King bedrooms, if you choose to share a bed with a bestie you will each pay the double room rate, saving $400. The other 2 rooms are double occupancy with two twin beds per room. We will do our best to pair you up with someone we think you'll match well with. On our retreats the sharing of rooms has fostered close bonds of friendship within the group.
What kind of food will be served?
The chef at the Villa never uses processed foods and all meals are prepared the old fashion way – from scratch.  Breakfast every day will be fresh and delicious, they provide a fixed daily menu that relies on local ingredients. Vegetarian options are available if we inform the chef before hand, other food sensitivities can not be accommodated, however in the town of San Miguel you will be able to find many dining options including gluten free and vegan.
How do I get to San Miguel from airport and back again?
We will secure group transportation to and from using a transportation service. When booking flights please plan your landing arrival as close to 3pm local time as possible. On our departure day all shuttles will leave for the airport by 10:30am.
What airport do I fly into?
When booking your flight please fly into Leon International Airport, which is an hour and 15 minutes from San Miguel. We recommend booking your flights at least 90 days before the beginning of the retreat.
What will the weather be like?
San Miguel is known for having eternal spring-like weather. Weather in January is likely to be in the 70's. It is expected to be a bit cooler in the evenings with highs in the 50's.
Is there anything special I need to bring?
We will send you a supply list two months before the start of the retreat. Art supplies will be minimal and will include two 8 x 10 cold-pressed watercolor paper pads, a travel watercolor set full of your favorite colors and a roll of watercolor brushes. We also recommend that you bring an extra bag (a collapsible duffle) to bring home your goodies you have collected on our shopping trips. San Miguel is known for its artisan markets and truly has some amazing shopping! The temperatures will vary, so don't forget layers, pack a bathing suit, sweater and a light jacket!
How should I expect to dress in San Miguel?
This colonial city has an overall relaxed atmosphere and an interesting mix of people. San Miguel serves as a haven for retirees, a destination for artists (there is an art school & so many galleries) and is still a Mexican city at its core. The area also hosts many outdoor festivals & concerts. When planning what to wear in San Miguel think "casual city chic" with light layers for the changing mountain weather.  The city is best explored on foot, through the narrow alleys and cobblestone streets so opt for comfortable shoes, sneakers or sandals. San Miguel is a cultural city, most of our activities will center on the historic city center, exploring charming shops and markets, admiring the colonial architecture, visiting galleries and musuems. Plan outfits that will work for exploring but will also be nice enough for a relaxed dinner in town.
I'm not an artist is this retreat still for me?
Absolutely! This retreat is much more focused on adventure and gathering inspiration, taking notice of your surroundings and approaching your life from a creative and holistic point of view. Painting is just one of the tools we'll encourage you to explore on this retreat. It will be a mix of laid back down time, exploration, pampering and immersion into a vibrant, lively culture.
Do you offer refunds?
There will be no refunds for this Retreat due to the planning and logistics involved. When you register be sure to know all you can about traveling to Mexico.

Participants On Our Retreats Share Their Experience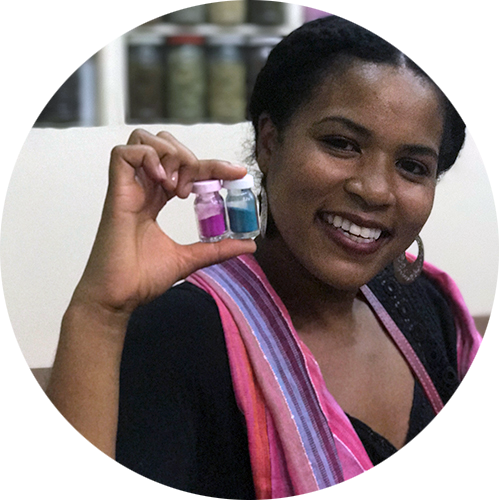 When people ask what my favorite memories are I can say it's been traveling to beautiful destinations with Mati and Faith! I've gone to Costa Rica and Morocco with them and both trips have changed my life for the better!  Not only are you discovering new places, but also exploring parts of yourself through art making. Being able to travel and create colorful artwork while making new friendships have been the most transformative and joyful moments in my life. If you want to be nurtured and truly feel awakened, I suggest art retreats because it's 100% happiness!"
– Lily U., Artist & Teacher, Costa Rica Retreats '16, '17, Morocco Retreat '17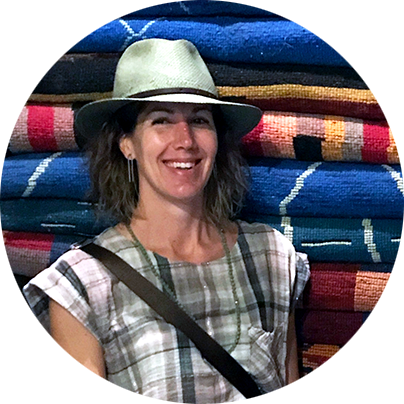 My first retreat with Faith and Mati was in Charleston, SC. It was so wonderful. We did loads of painting, had great food, and I left feeling so peaceful, rejuvenated and inspired. I recommitted to making art a regular part of my life.  Attending The Morocco Retreat was like something straight out of an exotic travel magazine. Everything was above and beyond my expectations. There were so many pieces of the trip, clearly well thought out making traveling to a foreign country a breeze. This included guides which knew the best places to shop, and helped us feel safe, lovely accommodations, and lots of adventures each day to fully experience Morocco from the rug shopping, the souks, the hammam, trips to gardens, the mountains and more. I will definitely be signing up for another one of Faith and Mati's retreats!"
– Lisa D., Acupuncturist, Charleston Retreat '16, Morocco Retreat '17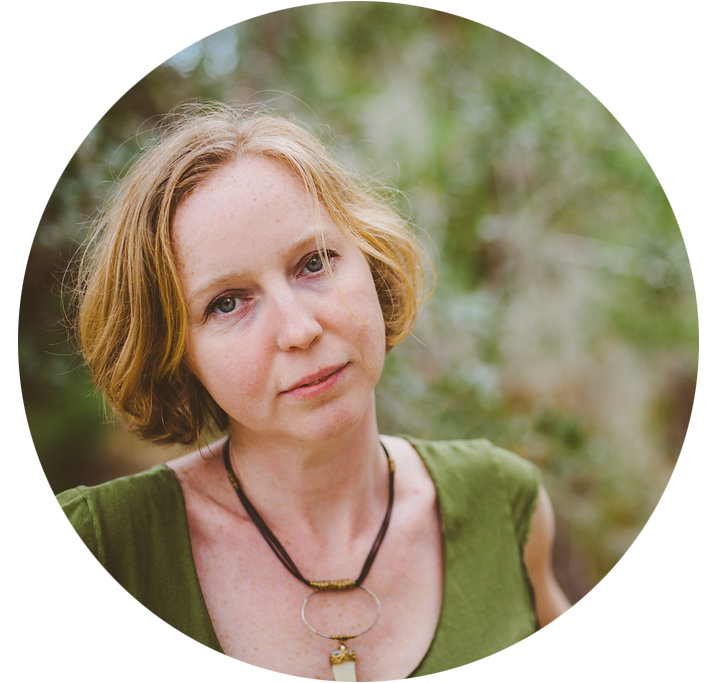 When I found out about Faith and Mati's first retreat to Costa Rica, I thought 'How AMAZING, but there's no way I can go' … the time… the kids, etc. But thankfully I had an epiphany that it was time for me to do something for myself, and I made the leap! I hadn't painted in YEARS, too many to even say. In college I had studied visual and performing arts, and eventually became a graphic designer. But between life, my family, and career, the artist in me became more and more distant. I was creative as designer, but very differently than I had once been. I was really nervous about what I would or would not be able to put on a canvas and had so many of my own judgements. But between Faith and Mati's teachings and the divinity and bliss of Nosara, Costa Rica, I immediately fell into the flow of my creativity and awakened a part of me that I had so very much missed. Faith and Mati teach with such fluidity and guidance that speaks to all levels of artists. They really know how to take the fear out to let your inner creativity flow. For that I am forever grateful."
– Jen Van Arsdale Leathers, Graphic Designer & Artist, Costa Rica '15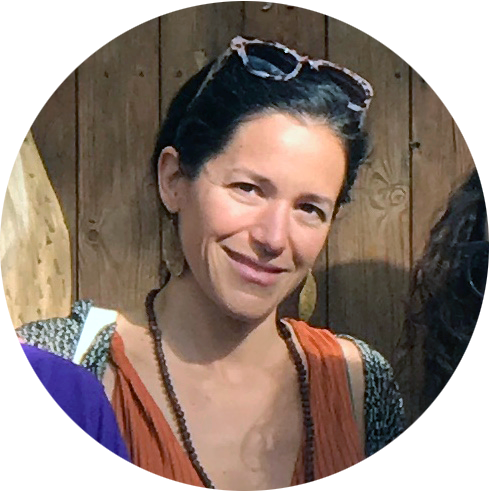 My recent trip to Morocco with Faith and Mati was the soulful healing I needed. I have been painting for years, and was in a bit of a creative lull.  I was looking forward to spending time with like-minded women and seeing a new area of the world…and hopefully leaving with some inspiration.  By painting with other women and delving into the creative process in such a spiritual place,  I ended up uncovering some deeper truths and returning home with a sense of creative wholeness.  My trip to Marrakesh was a gift in so many ways….. and Mati and Faith's guidance made it possible.  Not only did I have a wonderful experience, but I left having made some lifelong friendships."
– Daniela B., Artist and Teacher, Morocco Retreat '17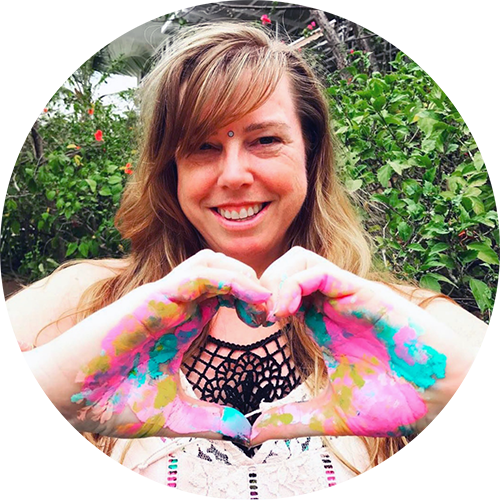 This week in Costa Rica I focused on the practice of being wild hearted and learning how to let go. I'm so thankful for all of the women I got to spend time with and learn from, at the Pura Vida Retreat with Mati Rose and Faith Evans-Sills. I feel so blessed to call all of these ladies my friends. I didn't understand what holding space was before this experience but after feeling the unconditional love and acceptance and lack of judgement this week I've come away with an appreciation for creating an environment that nurtures others while they are on their journey. I'm excited to return home full of inspiration and ready to allow new learning to unfold with an open heart."
– Christine B., Artist, Costa Rica Retreats '16, '17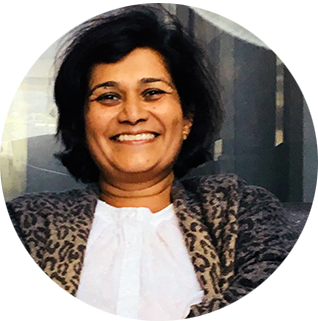 "We had a fantastic time in Marrakech with the group and with each other, I went on the Retreat with a long distance friend that I rarely see. We loved it there as we didn't just paint but did so much more, I enjoyed the company with Faith and Mati and all the other ladies in the group it was special, the Riad we stayed in was cozy and comfortable and the food there was delicious at the Riad and at some of the restaurants, loved the meditations, loved shopping in the souks there, did an amazing camel ride, and the spa day was an incredible treat and surprise. On the whole it was a self discovery Retreat for me. Mary Leigh and I are always in touch and hope to go to Costa Rica with you, as well as we loved the experience we had in Marrakech.Thank you for the extremely special Retreat and experience as it brought so much more than expected."
– Leena, Artist, Morocco Retreat '17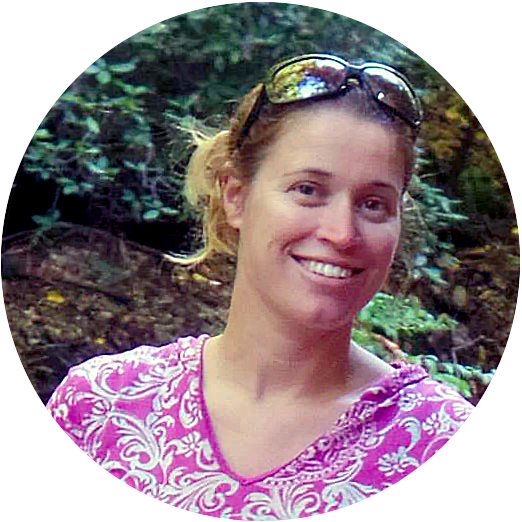 "This will be my third time on the Sacred Within Painting in Paraiso retreat in Costa Rica. I look forward to this trip all year long. Mati and Faith create a space that is so nurturing for my creativity to flow while I learn new techniques to apply to my art. I have met some of the coolest, strongest, bravest, beautiful souls on these retreats. I'm thankful that these women have become lifelong friends. So much Love and gratitude to Mati and Faith for sharing their wisdom and creating this retreat."
–Barbara J., Artist & Teacher, Costa Rica Retreat '16, '17, '18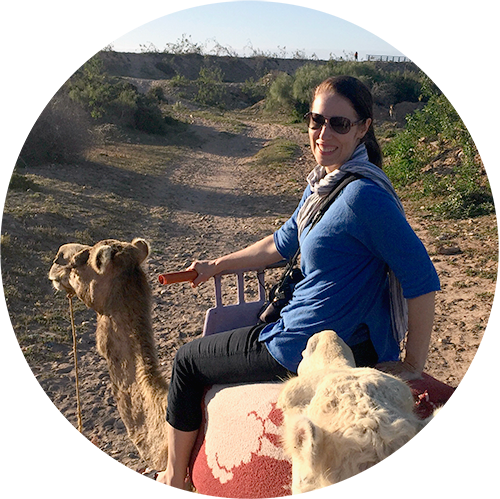 "My week in Morocco with Faith and Mati was truly magical. I didn't know anyone on the retreat before I left, but I felt called to go. I left Morocco with deep soul connections with my new friends and some fabulous treasures from the souk markets. Faith and Mati perfectly planned an adventurous and exciting itinerary, and I felt safe and welcome the entire time. I cannot wait to attend another retreat with them soon!"
–Carolyn M., Artist & Photographer, Morocco '16
Watch The Video
What Our Students Are Saying About Painting The Sacred Within
Take a look at our fine print here. Have more questions?
Feel free to shoot us an e-mail.
See you in Mexico!