A couple weeks ago I taught Daring Adventures in Paint at the Create Explore Discover Retreat up in Truckee, CA. Thank you Sarah for organizing this amazing heartfelt retreat!
Truth be told,  I always get nervous before teaching that I have nothing to teach. I think it's because painting comes easily for me, and it's hard to remember that this is something that others want to learn! This sounds silly/obvious to write out, but it's the truth! Below are some of my demo pieces I made alongside everyone. Crazy about gold leaf + gold glitter lately!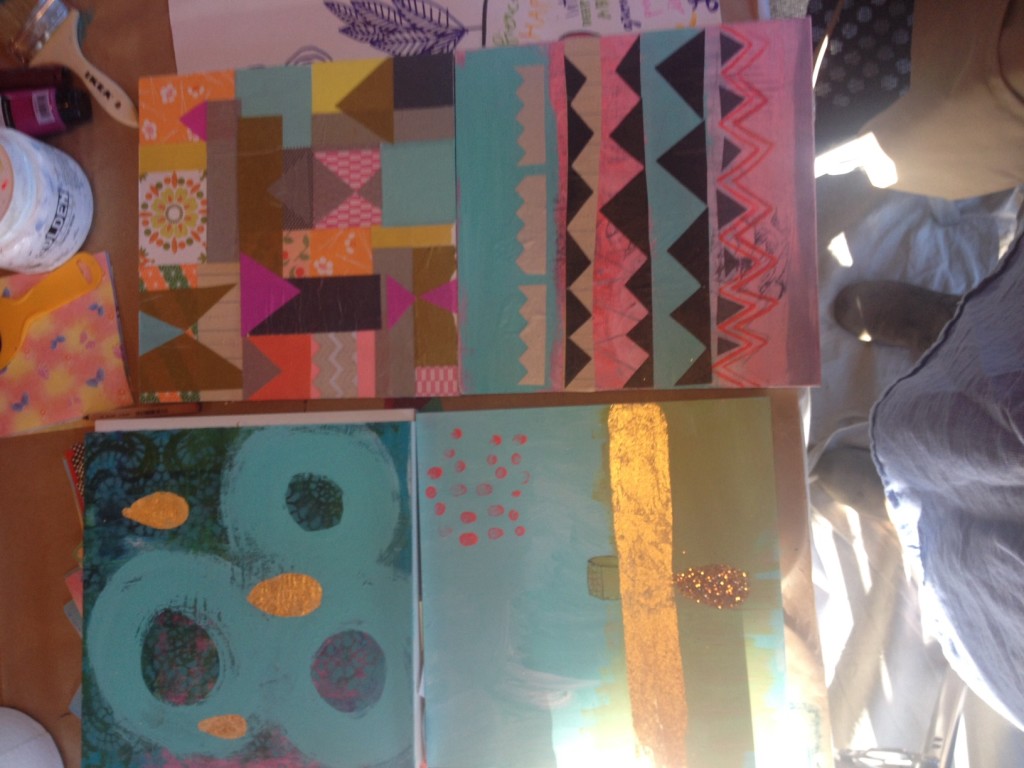 So right before teaching I psyche myself out and then once we begin, I realize, for the 100th time how damn inspiring it is to create! Just putting the lush paints down on a new canvas everytime still exhilirates me! Especially alongside each other in a gorgeous setting. I love working with small groups and one on one in particular. And even more so learning people's stories. In particular this year I loved painting across from 2 sisters from Texas who have so much love and spunk for each other. Bonnie + Cookie, I want to come visit you <3
This is  a peek into our awesome work space for the weekend surrounded by nature and yummy catered food: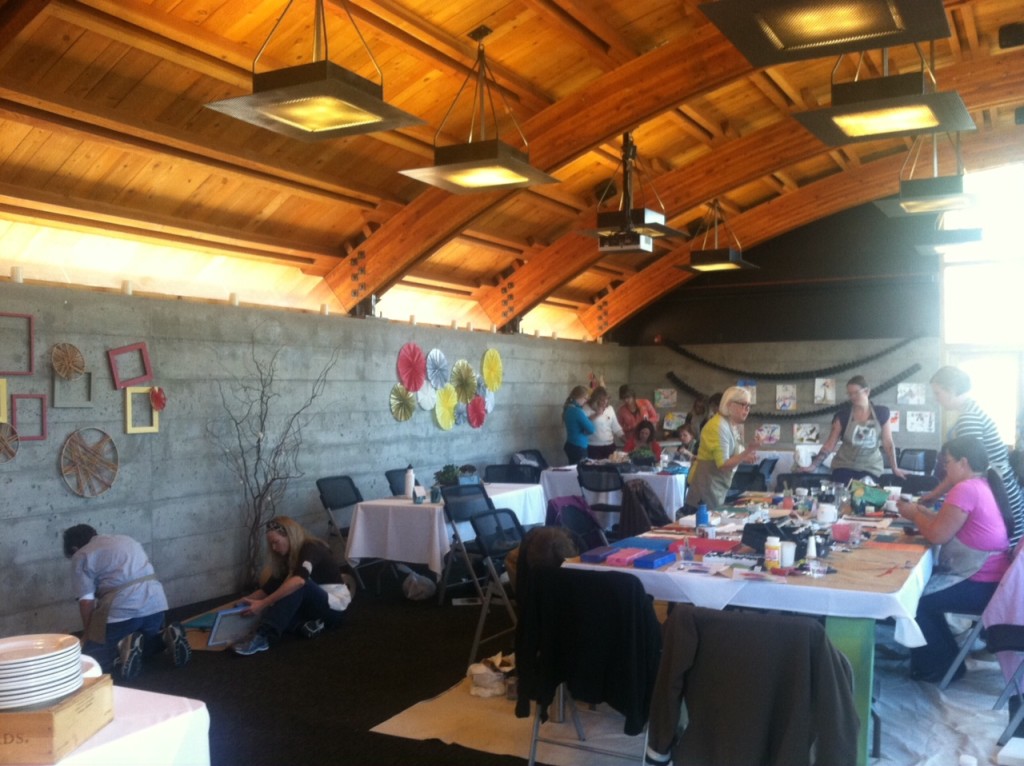 And it was great teaching for a 2nd year too to re-unite with return students like Maria, hi 🙂 And new people like Libby who was turning 50 and really looks 25. I want some of what she has. I loved hearing everyone's journies and trading paint colors and collage papers. It's really dreamy and I recommend this kind of experience to anyone looking for some nourishing self-care oomph of inspiration, color and heart connection. We're really not so different… from divorces, to raising children with special challenges, to running creative businesses… we struggle & thrive…. I'm reminded we all have stories to share and learn from one another.
Speaking of color, look at this yellow tree!!!!! Fall in Tahoe people.
Here's a pic of me in the surrounding at our fancy eco hotel. German style bedding people which translates to ohh la la sink in comfort. Very deluxe environment at the Cedar House Sports Hotel. Thanks Anne Weil for snapping this pic. I used my camera/phone as our music during the retreat and didn't unfortunately snap enough pics. Hillariously, I stepped away at one point and came back to learn that Aziz Ansari was playing on random with lots of profanities on my rdio mix 😉 Cracks me up.
Below is Anne Weil rocking the neons and her greens. Love this lady! She is uber-talented in things that I am not aka knitting, embroidery and anything involving precise hand-eye coordination and getting it right the first time. Painting is so forgiving in comprarison! Impressed to say the least. And yes, I took at least 10 shots of this making Anne come outside to get a good light shot. Reminding me of Alex Cave, our 3rd teacher for the retreat, who rocked the photography classes and hopefully has better pics than me.
Update: here's Anne's beautiful post on CED with her lovely real camera shots!!