Last week my extraordinary students completed the most recent session of my e-course. I was sincerely blown away by the swell of creativity, vulnerability, and boldness I got to witness each week — not to mention all the gorgeous art! I want to share a peek into our virtual studio…
Each Friday during the course, I spotlight a few students' art + offer my feedback for the benefit of the whole class. For instance…
Doesn't this just make your heart happy? I love how Anna Berger weaves together bright, whimsical imagery to tell a story born of her imagination + inner wisdom (below). She also did a beautiful job keeping it light, maintaing the integrity of those fresh colors, and avoiding "mud"! The silver leaf star is a perfect final touch that emphasizes the story she's telling. This piece is brimming with confidence and it definitely inspires me to be bolder.
Delicious… evocative… lush… buoyant… This piece by Trina Dalziel (below) is lightheared and joyous, but the quirky doodle-esque images give it just enough of an edge. Gorgeous and spirited!
Nikki Cade integrates a variety of mixed media techniques (including crackle paint!! what a fun discovery!) in this delightful portrait (below). Those romantic colors and textured layers make me swoon. I also love how Nikki boldly committed to the "subject matter" of her painting! I've noticed on Facebook that a lot of you are feeling doubtful or confused about how to take your painting to the next level (i.e. going past the "background" stage) — this piece is proof that sometimes you just have to GO FOR IT! "It" doesn't have to a literal figure (person, bird, etc.) or recognizable subject (landscape, flower, quote, etc.) — it can be anything that moves you. You may be surprised by what emerges when you commit to something + continue from there. If it doesn't work out, paint over it.
And I just had to share Amy Ingardia-Walker's joyful, messy, daring painting session with her darling daughter Emelia (below).  What a gift it is to open new doors of creativity for your kids!
I also share a series of videos demonstrating my signature painting techniques. The videos show the whole process, start-to-finish, so you can follow along! Participants can comment with questions, which I answer at the end of each week…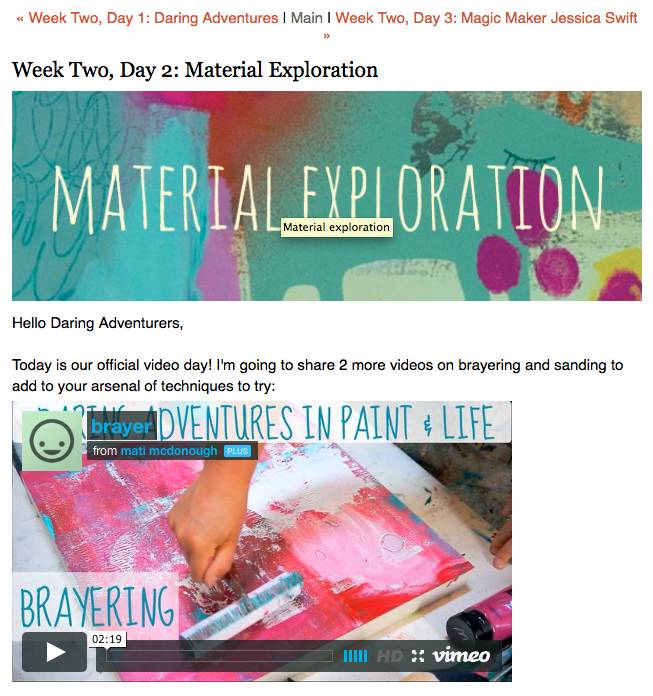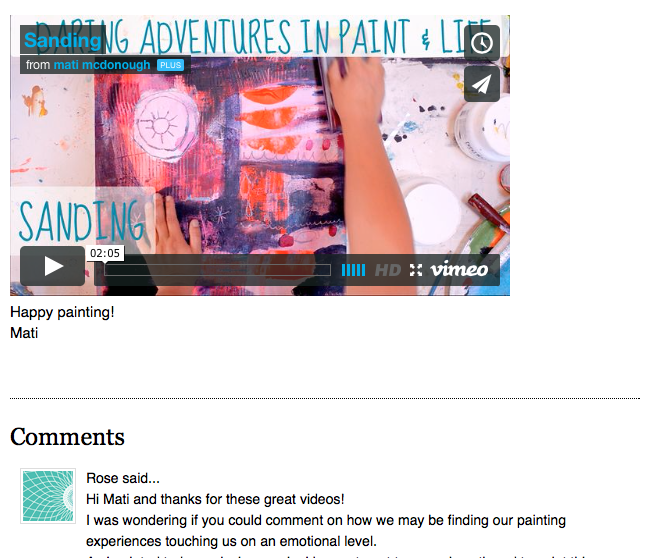 You can learn more about the structure + content of the course here. I'm already excited for the next group of daring painters to join me… the Spring 2014 session starts April 5 and registration is now open!