Hi friends,
I've been loving teaching lately in person and online! Below is a painting demo of mine showing how to use multiple techniques including gold + silver leafing! Which brings me to my next offering where I will share how to incorporate this fun medium into our paintings in this rad YEAR long painting class called LIFEBOOK.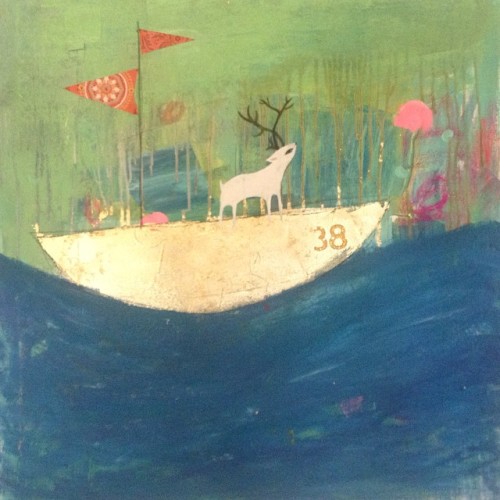 Life book 2015 is a YEAR-LONG online course featuring 26 different teachers with 26 different perspectives on the creative process. Life Book is packed with lessons, inspiration and a vibrant community of artists from all over the world.
I'm happy to be joined by art pals Flora Bowley, Jessica Swift, Lynzee Lynx and Alena Hennessy to name a few!  If you are seeking a year long course of artistic discovery jam-packed with different rock star art teachers, Life Book may be the answer!
Registration for Life Book 2015 opens on October 6th and the course begins on January 1st, 2015.
I have the tremendous honor to give away 1 FREE SPOT!  To enter, leave a comment about something DARING you've done this week 🙂
I will pick a winner on October 3rd after the blog hop!

All the wonderful Life Book teachers are giving away spots on their blogs (see the schedule below), so check em out.
8th September 2014 – Tamara Laporte –  http://www.willowing.org/ 
9th September 2014 – Jane Davenport – http://janedavenport.com/
10th September 2014 – Joanne Sharpe – http://joannezsharpe.blogspot.co.uk/
11th September 2014 –  Jenny Lee Wentworth – http://jennyleewentworth.blogspot.co.uk/
12th September 2014 –  Violette Clark – http://www.violette.ca/
13th September 2014 –  Chris Zydel – http://creativejuicesarts.com/
14th September 2014 –  Danielle Donaldson – http://danielledonaldson.com/
15th September 2014 –  Effy Wild – http://effywild.com/
16th September 2014 –  Flora Bowley – http://braveintuitiveyou.com/
17th September 2014 –  Alisa Burke – http://alisaburke.blogspot.co.uk/
18th September 2014 –  Rachael Rice – http://rachaelrice.com/
19th September 2014 –  Jeanne Oliver – http://www.jeanneoliverdesigns.com/
20th September 2014 –  Andrea Gomoll – http://andrea-gomoll.de/
21st September 2014 –  Kristin van Valkenburgh – http://www.kristinvanvalkenburgh.com/
22nd September 2014 –  Jill K. Berry – http://jillberrydesign.com/
23rd September 2014 –  Alena Hennessy – http://www.alenahennessy.com/
24th September 2014 –  Juliette Crane – http://www.juliettecrane.com/
25th September 2014 –  Jenny Doh – http://blog.crescendoh.com/crescendoh/
26th September 2014 –  Mati Rose McDonough – https://www.matirose.com/
27th September 2014 –  Patti Ballard – http://www.pbsartstudio.com 
28th September 2014 –  Lynzee Lynx – http://lynzeelynx.com/
29th September 2014 –  Roben Marie Smith – http://www.robenmarie.com/
30th September 2014 –  Andrea Schroeder – http://www.creativedreamincubator.com/
1st October 2014 –  Lynn Whipple – http://www.lynnwhipple.com/
2nd October 2014 –  Donna Downey – http://www.donnadowney.com/