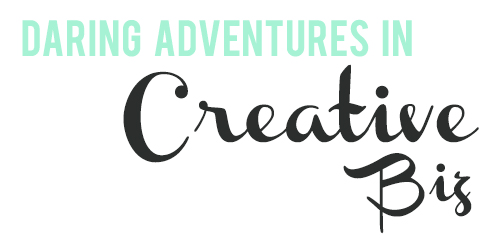 Welcome to the second post in my Daring Adventures in Creative Biz series! You can view the first post here.

Many new artists ask me how to start selling on Etsy. Here's an intro to launching an Etsy shop:
Etsy (an online marketplace for handmade goods) is a fantastic tool for independent artists/creatives. Setting up my Etsy shop helped me get my biz started years ago, and I still use it to sell my art prints, original paintings, books, and other products + services like creative mentoring.
Etsy has a free online Seller Handbook filled with instructions + resources to help you launch your shop. It takes time to set up your shop initially. There are lots of ways to fancy-up your shop, but at the very minimum you will need to provide your contact + bank account info (so you can get paid!), create a custom shop banner, and add quality photos + detailed descriptions of each item you want to sell.
Eventually, your shop will look something like this, with a custom banner, sections, and featured items for sale:
New + established artists alike ask me how I package + ship my Etsy orders. I must say, I've got quite a smooth operation in place, and I'd love to share it with you:
If you buy your packaging + shipping supplies at an office supply store or post office, they are surprisingly (even prohibitively) expensive. So I bulk order professional supplies online:
Note: I purchase non-bulk supplies (e.g. packing tape, sharpies, mailing labels, bubble wrap) when I'm at the office supply store/post office.
I recently started shipping directly from my studio — no more waiting in line at the post office! How is this even possible, you ask??
First, pre-pay for USPS postage by purchasing shipping labels on Etsy. You will need a shipping scale to weigh your packages + pay postage accordingly. After paying for postage, Etsy will provide you with a shipping label that you print + affix to the outside of your package — simply tape the label on, or print on sticky label paper!
Next, schedule a package pickup with USPS. You can even schedule regular weekly pickups if you so choose! Pickup is free if you schedule it during their regular route times. You will need to quickly set up a USPS account to do this.
How cool is that? As a creative biz owner, little time-savers like this help you stay productive + in the flow!
Bottom line: Use quality packaging/shipping materials to protect your merchandise + make it look professional. It's so important to package your orders well! Beyond giving a good impression, it ensures that your items arrive undamaged!
Got a specific Creative Biz question for me? Email matirosestudio@gmail.com 
I'm also available for Creative Mentoring here.